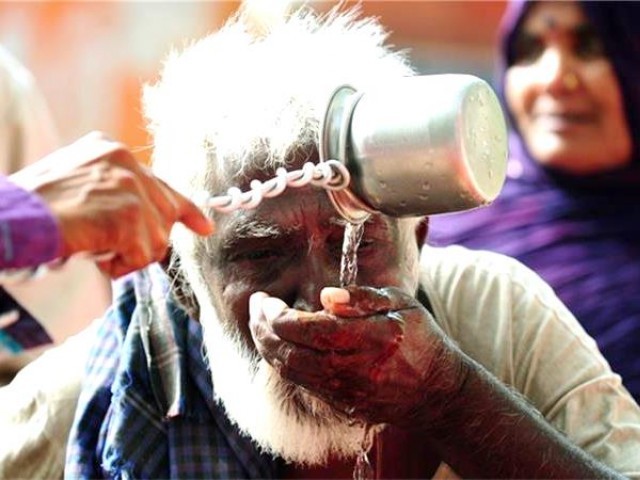 ---
KARACHI: The Karachi administration has decided to establish 118 first response heatwave management centres as part of preparations to deal with an expected hot weather the next two months.

Arrangements are finalised to prevent any heatstroke cases in the wake of forecasts of an increase in the intensity of heat during May and June.

Commissioner Karachi Iftikhar Shalwani chaired a meeting at his office on Tuesday to review the heatwave management plan. The meeting decided that deputy commissioners would formulate heat management action plan for their respective districts and set up first response heatwave management centres in different areas.

It was decided that 118 first response heatwave management centres would be set up in the city -- 24 in district South, 25 in district Central, 19 in district East, 10 district in West, 15 in district Malir and 25 in district Korangi.

'2019 will be the hottest year since 2015'

The centres to deal with heatstroke cases will also be set up at different hospitals of the metropolis. Besides these measures, the cooperation of the Provincial Disaster Management Authority, Karachi Metropolitan Corporation, district municipal corporations, health department, Karachi Water and Sewerage Board, K-Electric, police and other departments will also be sought to tackle heat conditions.

The meeting was informed that centres would also be set up in 13 hospitals of the port city. It was informed that 50 beds have been reserved at Abbasi Shaheed Hospital for prevention and treatment of heatstroke cases.

Meanwhile, K-Electric would ensure uninterrupted power supply in the city during May and June by taking measures against power breakdowns and load-shedding. It was also stressed that the power utility would not disconnect supply to any subscriber in case of non-payment of bills during the next two months.

Over 60 reported dead in Karachi heatwave

PDMA Sindh's Director General Salman Shah briefed the meeting that his department would provide necessary training to the staff to be deployed at the first response centres.

The meeting designated Additional Commissioner Karachi Ahmed Ali Qureshi as focal person to coordinate with relevant institutions for the implementation of the heatwave management plan.

According to Chief Meteorologist of the Pakistan Meteorological Department Abdul Rashid, 2019 will be the hottest year since 2015.

Last year, over 60 people had died due to the heatwave in Karachi as the maximum temperature remained 44 degrees Celsius for the two consecutive days in May.