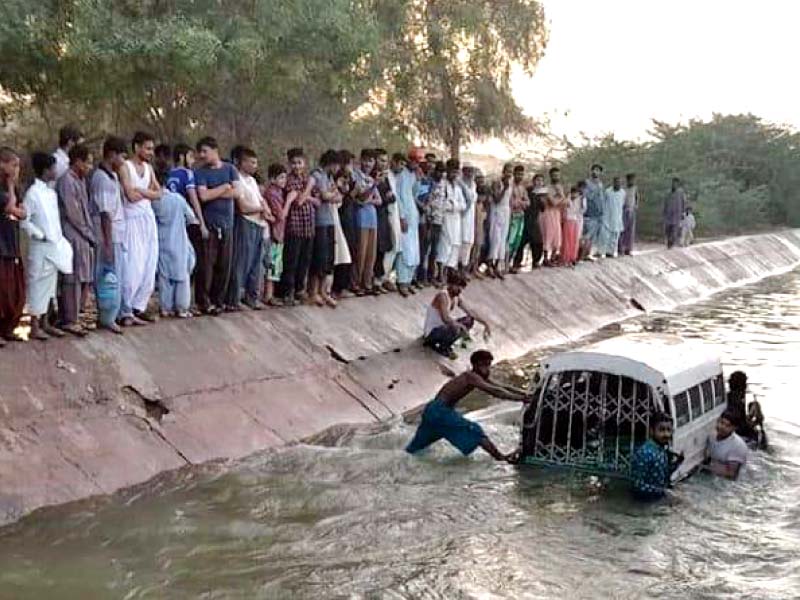 ---
KARACHI: A day out at Hub canal is a risky adventure given the lack of precautionary measures by the local administration and law enforcement agencies.

Many people visit the popular spot and engage in recreational activities, including bathing that can cause untoward incidents. The water board staffs seem helpless in stopping the people from bathing and despite numerous letters that have been sent to the deputy commissioner and other higher authorities, the establishment has not taken notice of the situation or imposed Section 144 to the people.

A Suzuki pick-up capsized on Sunday into the canal. Fortunately, due to the immediate action of the locals and the water board staff, no lives were lost.

Sindh govt has not paid its dues on Hub Dam: WAPDA official

According to sources, numerous people in pick-ups and Suzukis visit the hub canal. Activities like bathing not only put the lives of people in danger but are also a wastage of fresh water. The canal can also be damaged.

Water board sources said that at the moment, the Hub canal has become bloody. Water board officers said that they can't stop people from coming to the canal without the assistance of law enforcement agencies personnel. They added that they had sent multiple letters to the relevant authorities, including the West deputy commissioner and police. However, the latter remain unresponsive and no one is paying attention to this important issue.

The water board staff agree that if people are not barred from using the hub canal immediately, there is a risk of lives being lost. On March 14, three youths were killed after being swept by the current while bathing in the canal. 

Published in The Express Tribune, April 9th, 2019.