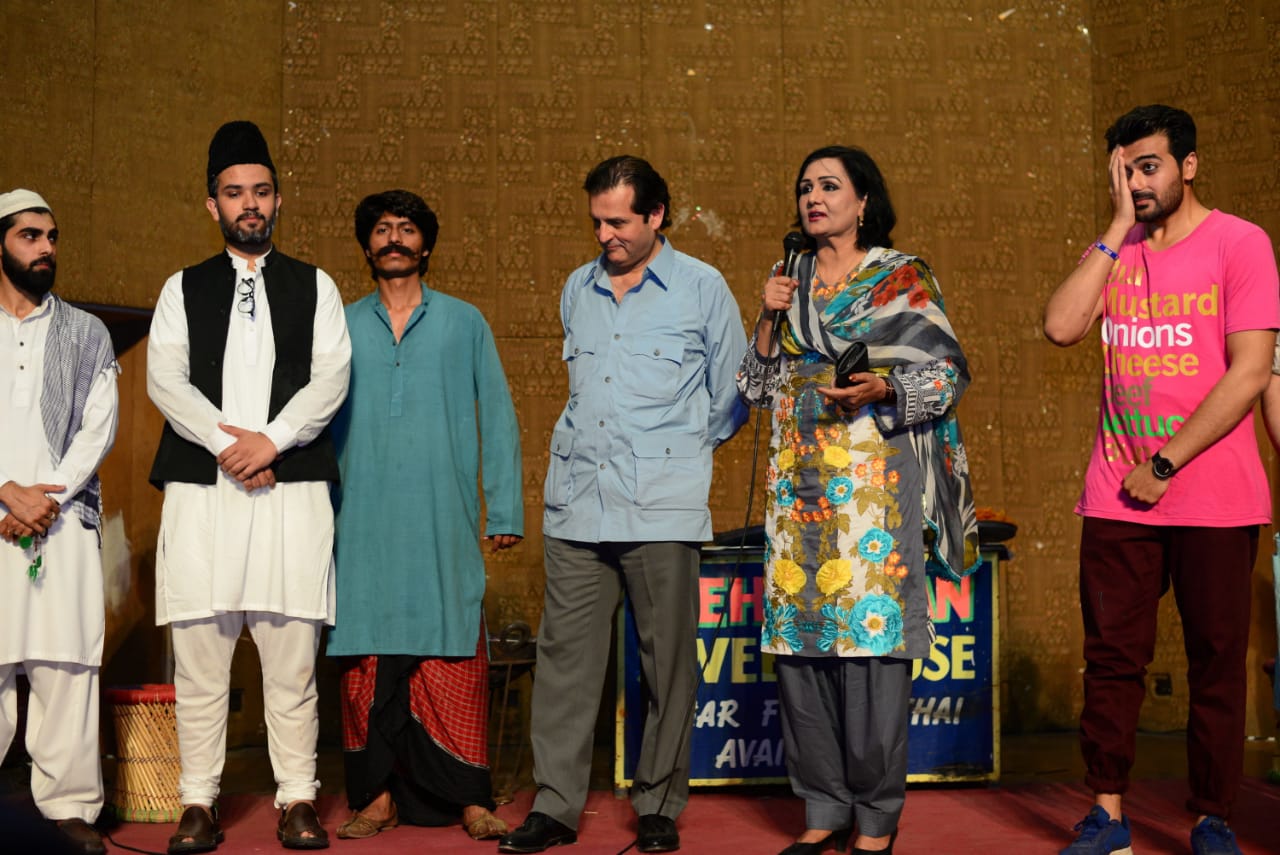 ---
LAHORE: Ajoka Theatre's renowned play Marya Hoya Kutta was staged and highly appreciated by a large audience at the Punjab Complex in Lahore over the weekend.

Numerous aspiring actors from Ajoka Theatre's 'Art of Acting' class showcased their talent in the spectacular performance of Shahid Nadeem's evergreen Punjabi play at the Punjab Institute of Language, Art and Culture (PILAC).

Directed by Nirvaan Nadeem, Marya Hoya Kutta is a multi-layered commentary on modern day society and a scathing critique on social narratives, norms and practices in a humorous but meaningful way.




The play opens with a dead dog lying in the middle of the road early morning causing inconvenience in a neighborhood full of people unprepared to dispose it. They carry on with their petty squabbles and routine activities, hoping that someone else will eventually rid them of this problem.

Ajoka Theatre's 'Marya Hoya Kutta' enthralls at Alhamra Theatre Festival

But as they are fast asleep late at night, they are woken up by an unbearable stench. They discover that although the body of the dead dog has mysteriously disappeared, the stench has still lingered. There is total disarray and everyone starts accusing the other of being the source of the foul smell.

Senator Waleed Iqbal and Director General PILAC Dr Sughra Sadaf graced the event as chief guests and applauded the performance by the young actors who were performing live for first time on stage.

The evening marked the culmination of the 'Art of Acting' course organised by Ajoka Institute. The second session of the course saw nine students - Madeeha Rasheed, Haifa Ambreen, Amir Rana, Sher Jaan Malik , Ahmad Ali , Abdul Wahab, Raees Malik, Omar Saleem and Khurram Hameed - participate and complete the course, which is designed and headed by Nadeem.




During the certificate distribution, Waleed expressed memories of his association with Ajoka Theatre. He shared that he played role of British Officer in The New Constitution in the early 90s. He appreciated the talent of the young actors who have learned a lot during the course, especially about onstage body language and dialogue delivery.

Sughra congratulated the young actors on graduating from their course and mentioned that Ajoka has always encouraged new talent by providing them the necessary training and a suitable platform to perform. She added that Nadeem is doing a great job at carrying on the legacy of the late Madeeha Gohar.

Alhamra Arts Council to hold Manto Festival on January 29-30

"PILAC will support the Punjab government and we are committed to the promotion of Punjabi culture, language and artistic activities. Our society wants to learn through art and besides this, the public also needs some sort of entertainment in their busy lives," Sadaf told The Express Tribune. "Therefore, we have many programmes planned for this year. We also try to engage theatre groups within other provinces for the promotion of our culture."

Have something to add to the story? Share it in the comments below.