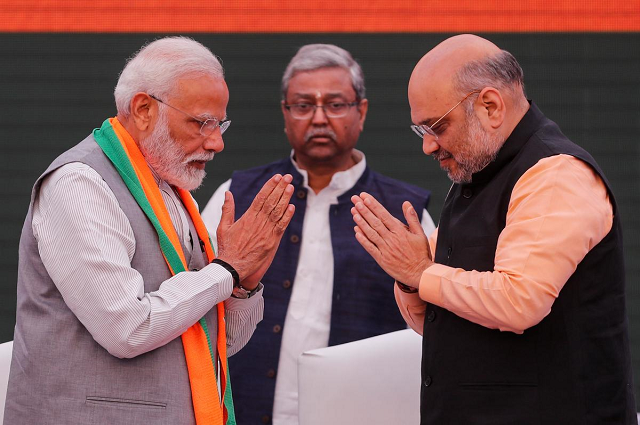 ---
NEW DELHI: India's ruling Bharatiya Janata Party (BJP) will scrap a decades-old law providing special rights to the residents of the Indian Occupied Kashmir (IoK), according to the party's election manifesto released on Monday.

"We believe that Article 35A is an obstacle in the development of the state," the party's manifesto said of the law that prevents non-residents from buying property in the state.

Political leaders in Muslim-majority Kashmir, where India is fighting an armed insurgency against its rule, have warned repealing the law would lead to widespread unrest.

Elections begin on Thursday.

Foreign Minister Shah Mehmood Qureshi revealed on Sunday that India is planning another military attack against Pakistan in coming weeks, raising the spectre of renewed hostilities between the two nuclear-armed neighbours.

"We have reliable intelligence that between 16th and 20th April, India may carry out an attack against Pakistan," disclosed the foreign minister at a news conference in his hometown Multan on Sunday.

Elaborating further, he said India could stage a "Pulwama style" attack in Occupied Kashmir to use it as justification for its military adventure against Pakistan.

India planning another military attack against Pakistan, says FM Qureshi

Islamabad has also warned Delhi against any misadventure, with the Indian deputy commissioner summoned to the Foreign Office on Sunday. According to the Foreign Office spokesperson, a strong demarche was handed over to the Indian diplomat after the foreign minister's speech.

India's F-16 downing claim ripped apart

Pakistan has also reached out to key world capitals on the development as it is taking the Indian threat seriously. Two days ago, Foreign Secretary Tehmina Janjua invited the ambassadors of five permanent members of the UN Security Council to share Islamabad's concerns.
COMMENTS
Comments are moderated and generally will be posted if they are on-topic and not abusive.
For more information, please see our Comments FAQ