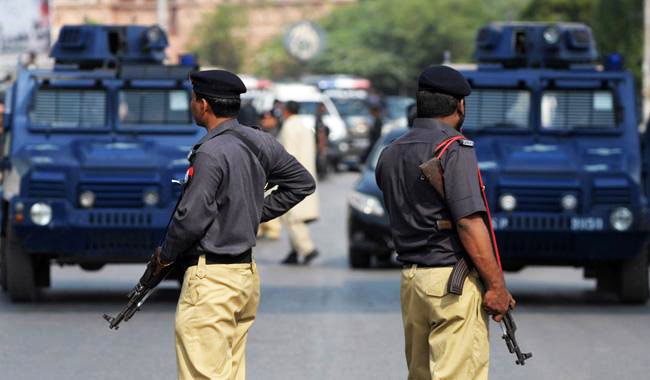 ---
KARACHI: An encounter between the police and suspected criminals took the life of another young boy in the city, while another boy sustained injuries. An exchange of fire took place between the police and suspects on Friday night at Muslimabad Colony, Quaidabad, in which two police officials and two young boys - 10 and 12-years old - got injured, of whom 12-year-old Sajjad later succumbed to his injuries.

According to Malir SSP Irfan Bahadur, Sajjad was caught in crossfire and received a bullet in his head. He was rushed to Jinnah Postgraduate Medical Centre (JPMC) where, according to Dr Seemi Jamali, the young boy couldn't survive his injuries and died during the course of treatment. His body was handed over to his family after the post-mortem.

12-year-old killed in Karachi police shootout

Quaidabad Police registered two cases of firing in Muslimabad Colony in the presence of additional sub-inspector Ahmed Yar. The first case has been registered against the injured accused under the anti-terrorism act for killing a young boy and injuring three others including two police officials. The second case has been filed against the accused for possession of illegal weapons. The case no. 94/19 has been filed against accused Sher Zaman under the sections of murder, attempt to murder, anti-terrorism act and police encounter. Case no. 95/19 has been filed under the section of illegal weapons' possession.

Two police officials also sustained injuries during the encounter against accused Sher Zaman alias Dora. The two officers, 25-year-old Tahir and 26-year-old Ataullah, were posted on intelligence duty. They were dressed in plain clothes and their motorcycle was found lying at the same spot after the incident. It was not clear if Sajjad was killed by the bullet fired from the police weapons or by the suspects.

According to Quaidabad SHO Shoaib Qureshi, police arrested accused Sher Zaman in an injured condition and seized weapons from his possession. The accused was allegedly a habitual criminal involved in several drug cases. More than a dozen cases have been registered against him in different police stations. He had been to jail after being arrested by the South Police in a drugs case a year ago, after which he got bail and escaped to his village. Police had started chasing him as they learnt he had come back to Karachi, said Qureshi adding that he had opened fire at the police in Quaidabad as soon as he saw them.

Post-mortem reports

The bullets that struck Sajjad were fired from a distance of 4-5 feet, according to the JPMC medical-legal officer (MLO) Dr Aijaz Ahmed. The post-mortem was done late Friday night.

The report maintained that Sajjad was brought alive to the hospital after being struck by two bullets - one in his head and the other in his arm. He was provided first aid and immediate medical attention but he died during the course of treatment. Dr Ahmed said that one of the bullets penetrated Sajjad's head from the back at the right side and came out from the top of his head. The bullet's entry mark's radius is one centimetre and the exit mark's radius is two centimetre. The second bullet penetrated his right arm and exited the body breaking his bone.

Eight-year-old boy sexually abused in Wazirabad

Dr Ahmed believed that the bullet that had struck Sajjad's head led to his death as his cranial bones were fractured. Both the bullets hit Sajjad from a distance of 4-5 feet. The nature of the wound suggests that the bullet was shot from a small weapon.

The deceased's brother-in-law, while talking to the media, said that police had no permission to carry out encounters in residential areas. Sajjad had returned home from their village the same day and he was playing outside when they got to know that he had been struck by a bullet and was severely injured. He questioned the authorities saying, "What was Sajjad's fault and why was he killed? Who will give us justice?" and added that they had been facing difficulties only to get the death certificate.

Published in The Express Tribune, April 7th, 2019.
COMMENTS
Comments are moderated and generally will be posted if they are on-topic and not abusive.
For more information, please see our Comments FAQ