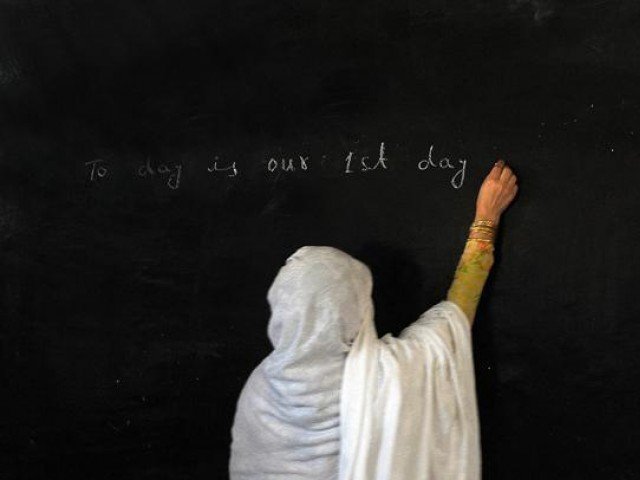 ---
PESHAWAR: Khyber-Pakhtunkhwa government has linked increments in the salaries of teachers with their performance, said Adviser to CM on Education Ziaullah Bangash in a video message.

However, the adviser made a mistake reading the message and repeatedly said 'agreements' instead of 'increments'.

Bangash said that those teachers and officials would not be awarded 'agreements' whose performance were below the mark.

He made it clear that the PTI government has given huge funds to education sector. However, he said it was sad to note that students from government schools were not showing good performance in matric exams.

Teachers need to realise their responsibilities, he said.

In the video message he further stated that he has authorised education director to take action against teachers who do not take classes. "I have authorised the director education to fire teachers if they are absent (without leave) for three days from school," Bangash said.

"We have brought model changes and adopted revolutionary step in the education department and have also extended the same model to the tribal districts to bring their education standard at par with that of the settled districts," Bangash said.

The PTI led government has allocated huge funds to the education and health sector and "our chairman (Imran Khan) demands results from both the important sectors, so we have linked the agreements of the teachers with their performances and results." He meant to say increment, though.

Bangash said he has held meetings with officials of education department and the Independent Monitoring Unit (IMU) to improve the performance of matric results of government schools.

The adviser said that IMU has 21 indicators to evaluate output of schools, "however, I have asked them to go further and check the performance of individual teachers."

Teachers get increment as per their pay scale at the end of year. Linking it with performance evaluation is likely to create issues for government employees.

Published in The Express Tribune, April 6th, 2019.
COMMENTS
Comments are moderated and generally will be posted if they are on-topic and not abusive.
For more information, please see our Comments FAQ