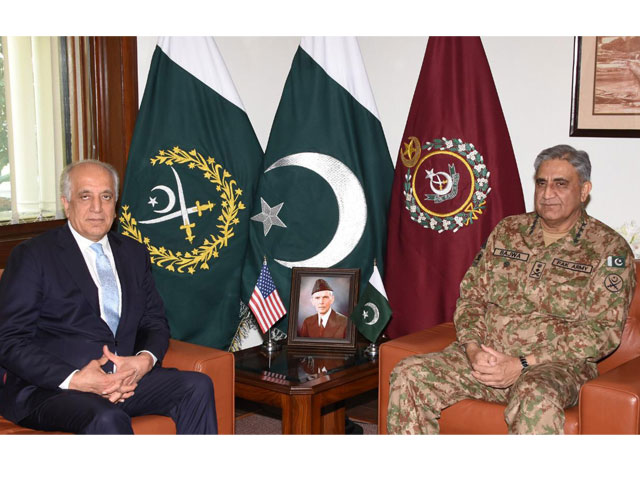 ---
ISLAMABAD: US President Donald Trump's point man for Afghanistan on Friday held talks with Pakistani authorities to bridge differences between the two countries on how to put an end to the 18-year-long conflict in Afghanistan.

Zalmay Khalilzad, the US special representative for Afghanistan reconciliation, flew from Kabul to Islamabad to have wide-ranging discussions with Foreign Minister Shah Mehmood Qureshi and other officials. He also visited the General Headquarters to meet army chief General Qamar Javed Bajwa.

Khalilzad's visit is part of his trip to the regional countries to discuss Afghan endgame. He spent five days in Kabul before arriving in Pakistan. In Islamabad, Khalilzad also led delegation level talks with Foreign Secretary Tehmina Janjua.

The focus of discussions remained on the ongoing efforts to seek a political solution to the Afghan conflict. In recent months, Khalilzad has held several rounds of the talks with Afghan Taliban's representatives in Doha. Talks have been facilitated by Pakistan.

Despite some forward movement, the Taliban have refused to talk to the Afghan government directly.

An official statement issued by the foreign office said Khalilzad briefed Foreign Minister Qureshi on the outcome of Doha talks and his recent engagements in the region. He also shared updates on his meetings in Afghanistan and the dynamics of the Intra-Afghan dialogue.

Qureshi, while appreciating his efforts, reiterated Pakistan's commitment to the peace process. He said that intra-Afghan dialogue is a vital component of the reconciliation process.

The foreign minister said Pakistan wishes well for the peace and stability in Afghanistan, which, he said, would directly benefit Pakistan's own vision for economic and human development.

Earlier, in delegation level talks with Janjua, Khalilzad was accompanied by an interagency delegation. The foreign secretary was assisted by senior officials from the ministries of foreign affairs and defence.

The foreign secretary also briefed him about telephonic conversation between Foreign Minister Qureshi and Secretary of State Mike Pompeo. She informed him about mutual interest in further progress on Afghanistan peace efforts. The two sides agreed to remain engaged to pursue the reconciliation process.

In a meeting with the army chief General Qamar, Khalilzad discussed "regional security situation and the ongoing Afghan peace talks," read a handout issued by the Inter-Services Public Relations (ISPR). The US envoy also appreciated Pakistan's efforts to establish peace in Afghanistan.

However, despite positive public statement, the mistrust between Pakistan and the US persists. And that was reflected in remarks attributed to Khalilzad in which he said Pakistan should change its policy towards Afghanistan otherwise "Islamabad and Washington ties will not improve."

The two countries also had a diplomatic spat recently when Prime Minister Imran Khan reportedly suggested an interim government in Kabul to break deadlock in the ongoing peace talks.

While Khalilzad criticised Khan's statement, the US ambassador in Kabul went a step further and schooled the Pakistani prime minister on diplomacy. That drew a strong reaction from Human Rights Minister Shireen Mazari, who called the US envoy as 'pygmy.'

But despite these apparent hiccups, the US considers support of Pakistan as vital for any peace deal in Afghanistan. Khalilzad is expected to travel to Doha for another round of talks with the Taliban.

During the last round, the two sides made significant progress on two key issues—the timeline of US troops withdrawal from Afghanistan and the firm guarantees by the Taliban that the Afghan soil would never be used again by terrorists.

But observers believe that the success of ongoing peace process will depend on the larger consensus within in Afghanistan, something that is possible only through intra-Afghan dialogue.
COMMENTS
Comments are moderated and generally will be posted if they are on-topic and not abusive.
For more information, please see our Comments FAQ