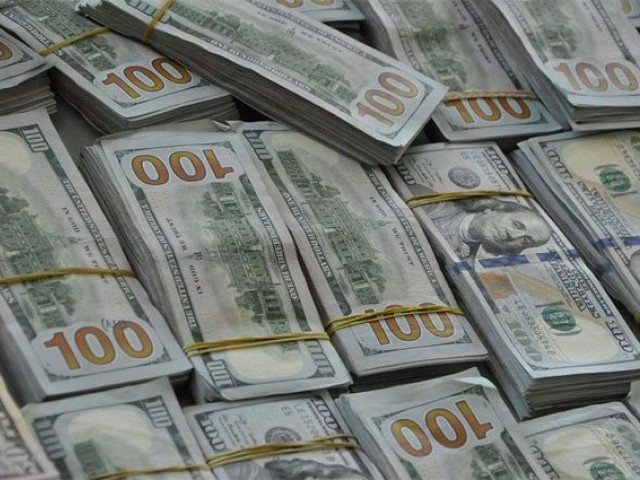 ---
KARACHI: The foreign exchange reserves held by the central bank surged 22.56% on a weekly basis, according to data released by the State Bank of Pakistan (SBP) on Thursday.

Earlier, the reserves had spiralled downwards, falling below the $7 billion mark, which raised concern over Pakistan's ability to meet its financing requirements. However, financial assistance from the United Arab Emirates (UAE) and Saudi Arabia helped shore up the foreign exchange reserves.

On March 29, the foreign currency reserves held by the SBP were recorded at $10,492 million, up $1.9 billion compared with $8,560.9 million in the previous week.

"The SBP received inflow of RMB 15 billion equivalent to $2.2 billion as proceeds of the loan obtained by the government of Pakistan from China. After taking into account the outflows relating to external debt and other official payments, the SBP reserves increased by $1,931 million during the week," the central bank stated in a press release.

SBP reserves fall 3.14% to $8.56b    

Overall, liquid foreign currency reserves, held by the country, including net reserves held by banks other than the SBP, stood at $17,397.6 million. Net reserves held by banks amounted to $6,905.6 million.

Earlier, the reserves dipped to $9.06 billion, forcing the central bank to let the rupee depreciate massively and sparking concern about the country's ability to finance a hefty import bill as well as meet debt obligations in coming months.

In April last year, the SBP's reserves increased $593 million due to official inflows. A few months ago, the reserves surged due to official inflows including $622 million from the Asian Development Bank (ADB) and $106 million from the World Bank.

The SBP also received $350 million under the Coalition Support Fund (CSF) earlier.

In January last year, the SBP made a $500-million loan repayment to the State Administration of Foreign Exchange (SAFE), China.
COMMENTS
Comments are moderated and generally will be posted if they are on-topic and not abusive.
For more information, please see our Comments FAQ