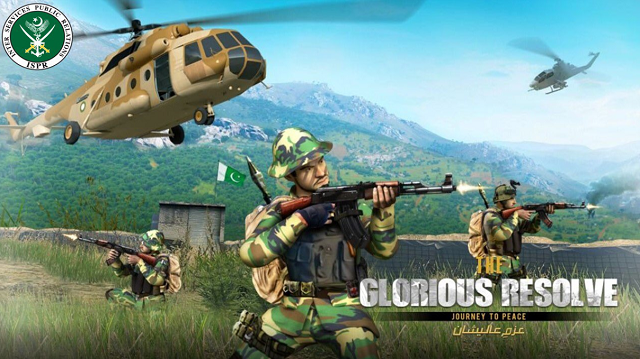 ---
The Inter-Services Public Relations on Saturday launched a game called The Glorious Resolve - Journey To Peace showing a 3D army adventure shooter who makes its players a part of an elite military force fighting on the frontline. The players will not only get to use military weapons but also "counter the hostile takeover of the region."

How your soldiers fight? Experience it for yourselves ....
Glorious Resolve 🇵🇰https://t.co/KS6Lu1jqzVhttps://t.co/1FuIa5XqZd pic.twitter.com/zWny9agZPX

— Asif Ghafoor (@peaceforchange) March 30, 2019

Students arrested in India for playing PUBG

The game brings together the army, air force, navy, and other law enforcement agencies as they fight terrorism using expertise and weapons in and around Pakistan.

"Get ready to take on the challenge and jump into an action adventure that will take you behind enemy lines into the fiercest battlefield of the century," says the description of the game on PlayStore.

The game takes the players through mountains, underground tunnels and dry deserts where using missiles, combatting air strikes and throwing hand grenades to defeat the enemy will be just the beginning.

China regulator approves 95 new video games

The Glorious Resolve also features UAV drones, guns, shotguns, rifles, intelligence-based operations and you get to compete for the top players who will make it to the online Leader board when they have the highest score.

The game is available on both iOS and Android devices.
COMMENTS
Comments are moderated and generally will be posted if they are on-topic and not abusive.
For more information, please see our Comments FAQ