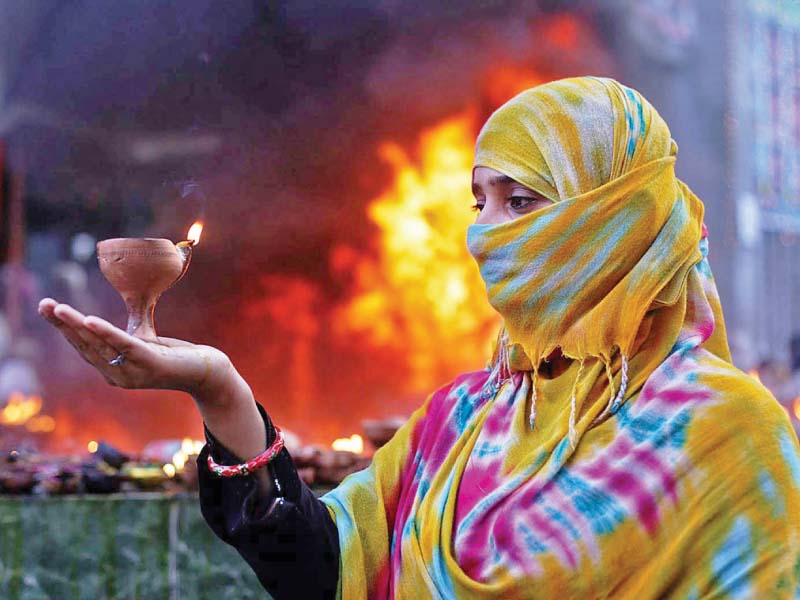 ---
LAHORE: The celebrations of 431st Urs of Shah Hussain, popularly known as Madhu Lal Hussain, will start from March 30 (today).

A mela chiraghan (festival of lights) will begin after decorating the shrine with a traditional chaadar or cloth cover.

Provincial Minister for Auqaf and Religious Affairs Department Pir Syed Saeedul Hassan will lay the traditional cloth on the shrine.

Holi hai: Celebrations continue in Lahore

Along with secretaries, DG Auqaf, members of the Religious Affairs Committee and a large number of pilgrims across the country will be present for the events of the Urs.

The Walled City of Lahore Authority (WCLA) has organised a mela chiraghan in collaboration with the Punjab Auqaf Department between March 29 and April 1. The three-day festival will include a series of qawali nights at the shrines of Sufi saints.

Every year, the festival of lights is celebrated at the urs of Sufi poet and saint; Shah Hussain. This year, the celebrations will be expanded to other parts of Lahore in order to revive the spirit of the festival.

Shah Hussain lived in Lahore in the 16th century. The urs takes place at the shrine of Madhu Lal Hussain in Baghbanpura on the outskirts of the provincial capital.

'Politics over Sharif's health bid to sabotage Pakistan Day celebrations'

WCLA Director General Kamran Lashari said Lahore was the land of saints, packed with shrines, tombs and rich Sufi culture. "It is important that the teachings of our saints reach the masses," he said. Lashari added that this was one of the oldest festivals of Lahore and people from various religions also attend the event. "We have taken up the initiative to speed up the festivity all around Lahore."

Published in The Express Tribune, March 30th, 2019.
COMMENTS
Comments are moderated and generally will be posted if they are on-topic and not abusive.
For more information, please see our Comments FAQ