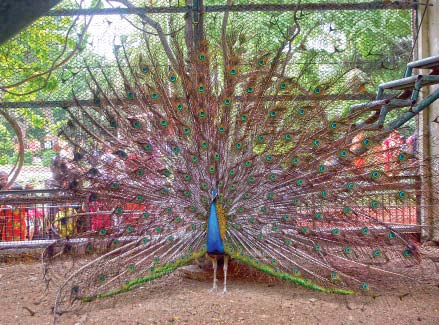 ---
LAHORE: Hundreds of peacocks at breeding centres across the province have died due to the influenza H5 virus, also known as avian influenza.

The Punjab Wildlife Protection and Parks Department has imposed an emergency at government parks, zoos and breeding centres.

Speaking to Express News, a senior veterinary officer, wishing to remain anonymous, confirmed that more than 100 peacocks at the former prime minister's farmhouse in Jati Umra have died due to the virus during the past week.

Wildlife officials nab illegal bird trader

Meanwhile, similar deaths, in smaller numbers, have been reported at private breeding centres across the province. On the basis of these deaths, the wildlife department has started enforcing safety measures to protect the remaining birds from influenza and Newcastle disease.

Lahore Zoo Senior Veterinary Officer Dr Rizwan stated that with the changing weather, the administration has started taking safety measures. "All the birds at the zoo have been vaccinated and their blood samples have been sent to the laboratory for tests," he said.

Similarly, other safety measures have been enforced at the enclosures so that the animals can be safeguarded against dangerous viruses. Veterinary experts say that H5 and H7 influenza are the two types of viruses that can kill birds. The viruses cause water to flow from the nose and also adversely affect the birds' intestines.

Officials urged to take action against illegal hunting of birds

Last year, the poultry industry was devastated by an outbreak of Newcastle disease. Thousands of hens, pheasants and peacocks in the country died because of the virus. Experts say that the bodies of the birds who die as a result of the virus should be disposed of properly to lessen the chances of the disease spreading.
COMMENTS
Comments are moderated and generally will be posted if they are on-topic and not abusive.
For more information, please see our Comments FAQ