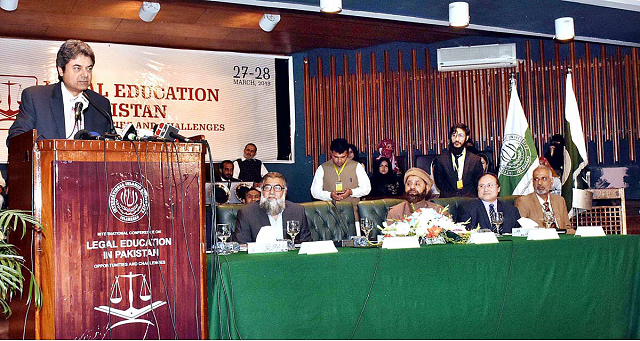 ---
ISLAMABAD: The federal law minister on Wednesday stressed the need for legal education in the country to stay abreast of modern developments.

This was stated by Federal Minister for Law and Justice Barrister Farogh Naseem while speaking to law students of the International Islamic University Islamabad (IIUI) during the opening session of the two-day international conference on "Legal Education in Pakistan: Opportunities and Challenges". The conference was organised by the Law Department of IIUI at its Faisal Mosque Campus.

cquire education right from the first revelation 'Iqra'.

He told the students that legal education and knowledge in legal matters was vital today since laws impact all walks of life. Even matters related to all the different government ministries and departments eventually come to the law ministry to gauge their suitability and feasibility from a legal point of view.

Naseem further said that the rule of law was imperative for the progress of a society.

The minister added that there is a need for law practitioners to identify legal problems and provide solutions in order to form a just society.

Govt planning amendments to NAB law: Farogh Naseem

Education, the federal law minister emphasized, is the only solution to compete in the changing circumstances across the globe.

Naseem quoted South African leader Nelson Mandela that, "education is the most powerful weapon to change the world".

He said that the idea of legal education was to make students learn the ethos of a particular subject or concept of law.

To gain command over the law, he said that it was imperative that one must have command over the language in which they acquire knowledge of the law.

Referring to the Supreme Court's decision of 2015 on using Urdu in official business, he said that the top court had directed courts to adopt Urdu as the court's language.

Talking about law education in the country, he said that our main emphasis should be on teaching the relationship between the law and the society and law and human rights.

IIUI Rector Dr Masoom Yasinzai called upon educational institutions to bring law experts and researchers to a platform to explore the challenges and their solutions with recommendations for improvements.

"The law department has recently established law clinics which are a positive step towards this development and will provide opportunities to graduates to learn practical skills," he said.

Shariah and Law Faculty Dean Dr Tahir Hakeem highlighted the importance of legal education in the light of Islamic teachings.

IIUI Law Department Chairman Dr Hafiz Azizur Rehman said that the conference is focused on addressing issues in legal education and commence a debate for revamping legal education. 

Published in The Express Tribune, March 28th, 2019.