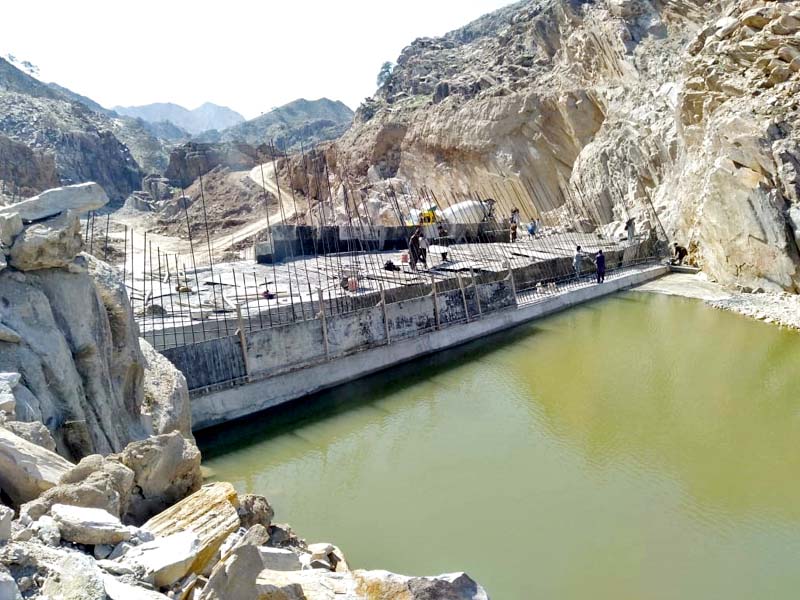 ---
SHABQADAR: The long delayed Gandao Dam is ready to provide clean drinking water to entire Ghallanai from June.

The construction of the small 105 feet high concrete gravity dam with a storage capacity of 810 acre feet water meant to benefit 22,000 people of Ghalnai started in 2013 but was suspended in due to militant attacks. It finally resumed in 2018.

Ghallanai, the headquarters of Mohmand tribal district, suffers scarcity of drinking water during summers when water table in the area goes down to more than 300 feet.

Dry season means expensive water supply. A tankful of 2,500 litres of water costs local people Rs2,500. Households are known to ration water usage, so that one tank lasts a week.

Ghallanai is home to MNA Sajid Mohmand. When asked about the situation MNA Sajid said his first priority is provision of drinking water to the Mohmand tribal district.

"During Premier Imran Khan's visit to Mohmand, I requested him for provision of water from Mohmand Dam," Sajid said talking to The Express Tribune.

He termed the Gandao Dam a blessing of Almighty Allah to the people of Mohmand which will end drinking water crisis in Ghallanai.

Fata Development Authority (FDA) Mohmand Coordinator Tariq Khan said Gandao Dam was the third mega projects of the authority in Mohmand.

"Moto Shah and Pandyali dams have been completed by FDA in Prang Ghar and Pandyali tehsils of tribal district during my service tenor in Mohmand," Tariq said talking to The Express Tribune.

The first two projects were successfully providing both drinking and irrigation water to the respective areas. Gandao Dam will be completed till June, Tariq added.

He said that about 80 per cent construction has been completed after resumption of work on the dam in 2018, including constriction of overhead tanks for pumping water.

Meanwhile a four kilometre long pipeline has been laid down from overhead tanks to Ghallanai to provide water to homes he said, "now the local people will not have buy water nor will the women have to go long distances to fetch water from wells."

He said the dam would have become functional a few years ago after it was initiated in 2013. However, on October 25, 2013, an IED blast took place near Ghallanai. The explosion claimed he lives of Dam Contractor Shakoor Khan, Site Engineer Abdul Ghani and driver Itbar Gul, who were going to inspect the site of Gandao Dam.

They were going to take stock of the situation after the night of October 24, when dozens of militants had attacked the dam site, torched the machinery and equipment while taking labourers hostage.

Work on the site stopped. No one was willing to work under such life-threatening conditions.

Tariq said that at that time about 40 per cent work had been completed on the dam. Following the militant attack the dam contractor refused to start work and also filed a damages suit in Peshawar High Court.

Finally there was a settlement between the contractor and FDA in light of the PHC verdict in 2018.

Tariq said owing to improved security situation, work was moving ahead at a very good pace and the Gandao Dam project was likely to be completed by June this year.

Published in The Express Tribune, March 26th, 2019.
COMMENTS
Comments are moderated and generally will be posted if they are on-topic and not abusive.
For more information, please see our Comments FAQ