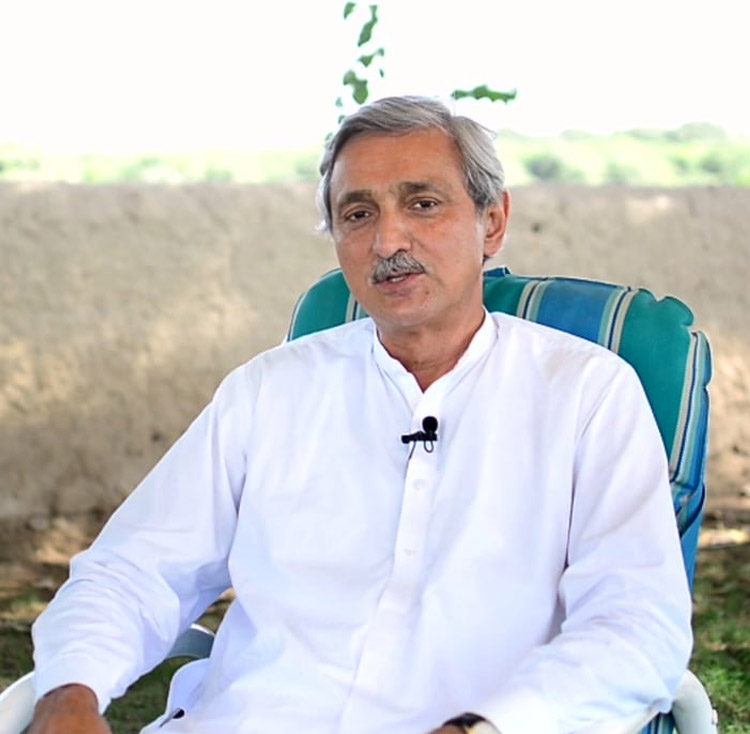 ---
Federal Minister for Information and Broadcasting Fawad Chaudhry on Sunday defended the Pakistan Tehreek-e-Insaf (PTI) leader Jahangir Tareen for briefing the cabinet members on issues pertaining to agriculture.

The Supreme Court of Pakistan had disqualified Jahangir Tareen for being "dishonest" in 2017.

On Tuesday, the former general secretary of the ruling party briefed the cabinet members on agriculture matters during a meeting chaired by Prime Minister Imran Khan, drawing severe criticism from the opposition parties.

Addressing a press conference in Lahore today, Fawad Chaudhry said Tareen's input over the matters of economy and agriculture was invaluable for the country.

"Similarly, dual nationals cannot take part in the electoral process but if they have expertise over any matter, the government would welcome their  assistance," he added.

Taking a jibe at the opposition, the minister said the real motive behind the Pakistan Peoples Party's "train march" was to divert the attention from ongoing accountability process.

Fawad schools Swaraj on protecting minorities

When PPP chairman Bilawal Bhutto Zardari was asked about the fake accounts and unlawful bank transactions worth billions of rupees, he raised the issue of proscribed organisations, the minister added.

Earlier this week, PML-N spokesperson Marriyum Aurangzeb had claimed that including a person, found guilty by a court, in a cabinet meeting may constitute contempt of court.

Prime Minister Imran had promised to throw Tareen out of the party if he were convicted by the judiciary but had then taken a U-turn and included him in a cabinet meeting, she maintained.

The PML-N leader also charged that PM Imran loved Automatic Teller Machines (ATMs) that derived their incomes from money laundering, adding that the prime minister's attitude emanated from his belief that he was above the law.

Marriyum alleges PM's favouritism towards Tareen

She also demanded an explanation from the prime minister as to why a person sentenced in a money-laundering case had been made part of a constitutional forum, and also questioned why the agricultural reforms sector was being handed over to a money launderer.

'Force conversion' of two Hindu girls

In today's press conference, the information minster also spoke on the issue of alleged abduction and forced conversion of two Hindu girls to Islam in Ghotki before being married to Muslim men.

He said the prime minister had ordered probe into the matter and culprits will soon be arrested.

"Incidents like this take place everywhere in the world what matters is the state's stance."

Earlier in the day, he also hit back at the Indian External Affairs Minister Sushma Swaraj for seeking report from its high commissioner in Islamabad over alleged abduction of Hindu girls.


Mam its Pakistin internal issue and rest assure its not Modi's India where minorities are subjugated its Imran Khan's Naya Pak where white color of our flag is equally dearer to us.I hope you ll act with same diligence when it comes to rights of Indian Minorities https://t.co/MQC1AnnmGR

— Ch Fawad Hussain (@fawadchaudhry) March 24, 2019