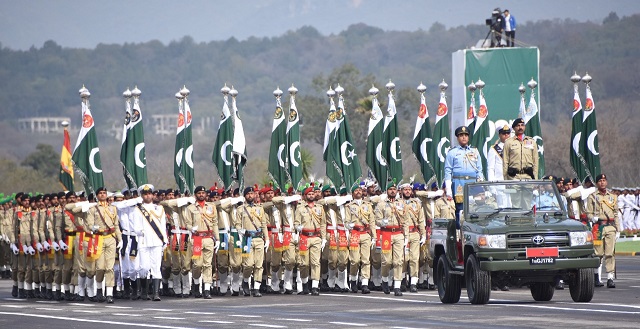 ---
The nation on Saturday marked Pakistan Day with renewed vigour vowing to work to see the country prosper.

To celebrate the occasion, the Pakistan Day military parade was held in the federal capital with  top civil and military leaders and a large number of foreign dignitaries.

Special guest of honour, Malaysian Prime Minister Mahathir Mohammad was also present at the parade, along with President Arif Alvi, Prime Minister Imran Khan, Chairman Joint Chiefs of Staff Committee General Zubair Mehmood Hayat and the three services chiefs.

In pictures: New Zealand women don headscarves to support Muslims

Minister of Defence of the Republic of Azerbaijan Colonel General Zakir Hasanov, Commander National Guard of Bahrain Sheikh Mohamed Bin Isa Bin Salman Al-Khalifa, and government officials from Oman were also in attendance.




PHOTOS: EXPRESS

Burj Khalifa lights up for Pakistan

Dubai's Burj Khalifa, the tallest skyscraper, was draped in the Pakistani flag to mark the country's independence.



Pakistan Day reception in South Korea

To mark the 79th anniversary of National Day, Embassy of Pakistan in Seoul held a reception on March 18, 2019. Cho Hyun, First Vice Minister of Foreign Affairs was the Chief Guest on the occasion. The Reception was well attended by around 400 guests including heads of the diplomatic corps, businessmen, members of international press and the Pakistan community. It was also widely covered by the Korean media.

Speaking on the occasion, the Pakistani ambassador underlined that the two countries enjoyed friendly and cordial relations and emphasised upon the significant developments in bilateral relations in recent years.

The Korean diplomat, speaking on the occasion, said that close and friendly relations between Pakistan and Korea are underpinned by a strong economic relationship. He also congratulated the ambassador upon successful convening of 10th round of bilateral political consultations between the both countries last year.

Cho Hyun acknowledged the growth and stability of Pakistan's economy and the improvement in the security environment of the country.