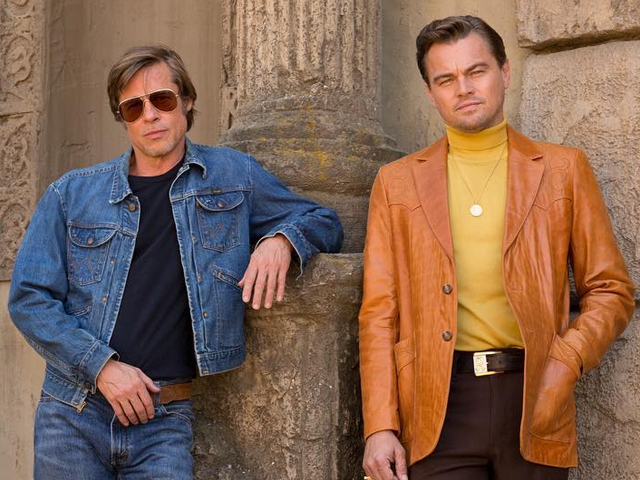 ---
After eight feature-length directing credits and more than 20 years atop the Hollywood hierarchy, director Quentin Tarantino has earned a reputation that makes any project he's working on a big deal.

The famed auteur's next film, Once Upon a Time in Hollywood, uses the infamous Manson Family murders of 1969 as its backdrop, and now we have the film's first official trailer.

While the film comprises of several real-life personalities, the protagonists of the film are fictional. Dicaprio plays  Rick Dalton and Pitt will done the role of his stunt double and best friend Cliff Booth.




Tarantino describes the film as "a story that takes place in Los Angeles in 1969, at the height of hippie Hollywood. The two lead characters are Rick Dalton, former star of a Western TV series, and his longtime stunt double Cliff Booth. Both are struggling to make it in a Hollywood they don't recognise anymore. But Rick has a very famous next-door neighbor … Sharon Tate."


"I've been working on this script for five years, as well as living in Los Angeles County most of my life, including in 1969, when I was seven years old," Tarantino said in a statement accompanying the announcement.  "I'm very excited to tell this story of an LA and a Hollywood that don't exist anymore. And I couldn't be happier about the dynamic teaming of DiCaprio and Pitt as Rick and Cliff."




The all-star cast of Once Upon a Time in Hollywood, which is said to be separated into thematic chapters (à la Pulp Fiction), currently includes Leonardo DiCaprio, Brad Pitt, and Margot Robbie, among other well-known Hollywood actors.

The cast will reprise the roles of some of the biggest names in the history; such as, Sharon Tate, Steve McQueen, Roman Polanski, Charles Manson, Bruce Lee.

Here's who's playing who in the upcoming release:

Margot Robbie as Sharon Tate:


Damon Herriman as Charles Manson:
Mike Moh as Bruce Lee:
Rafał Zawierucha as Roman Polanski:
Damian Lewis as Steve McQueen:


Once Upon a Time in Hollywood comes out on July 26.

Have something to add to the story? Share it in the comments below. 


COMMENTS
Comments are moderated and generally will be posted if they are on-topic and not abusive.
For more information, please see our Comments FAQ