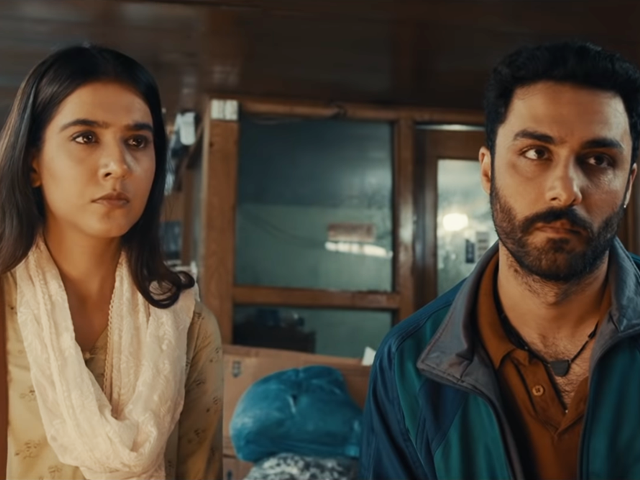 ---
KARACHI: Produced by the brother-sister duo of Hania and Kamil Chima and directed by debutant Kamal Khan, Laal Kabootar stars Ahmed Ali Akbar and Mansha Pasha in leading roles. Set to release on March 22, the film is a Karachi-based crime drama revolving around Adeel Nawaz (Akbar) and Aliya Malik (Pasha) who get tangled up with the underworld.

Speaking with The Express Tribune, the two leads discussed their characters and how Laal Kabootar just might steer Pakistani cinema in a new direction. "Aliya is someone who's gone through a life-altering experience and the story is about her coming to terms with it; coming to the end point of the journey," said Pasha, keeping the description vague enough.




Whereas, Akbar described his character as someone who was "not happy with his past and wants to change a lot about himself and his future." He said Adeel is constantly trying to be someone else and he takes some shortcuts in life which land him in trouble.

For both, signing up for Laal Kabootar was an obvious choice. The Chalay Thay Saath star said, "I think the kind of work that Kamal has done, the vision that he has and the person that he is, it was a no-brainer. Films like this come along once in four or five years. I'm hoping it happens more often after this but so far, it's a rare opportunity I wouldn't have wanted to miss."




Akbar, meanwhile, has done vastly different films in the past: a horror (Siyaah), a comedy (Karachi se Lahore), a brief role in Ho Mann Jahan and a crime comedy (Parchi). "This is completely different and intense. I chose it because it was challenging to me and the director and I think it's also challenging the industry," he said. "Why not be part of something that's breaking new ground in terms of script and execution."

'Laal Kabootar' trailer is unlike anything we've seen before

Laal Kabootar trailer has so far received great responses, with many comparing it to Sacred Games in terms of visual treatment. But the team isn't too concerned about comparisons. "I think it's a fantastic show so I'm not worried. But I do think the two have completely different content," said Akbar.




One of the elements that's been talked about a lot is the free use of curse words. For many, it's a turn-off, while the rest are vocal about it not being part of our culture and trying to imitate Indian content. Akbar feels this is hypocritical. "This is what makes people go to cinemas and watch it. I mean, curse words are meant to offend and people should react to them," he said. "In Laal Kabootar, curse words are part of the world that we're showing."

Pasha believes these are parts of ourselves that we aren't willing to accept. She said, "It's the same with dance numbers. People say they are not part of our culture. Have you seen our films from the 1960s and 70s?"




"Saying something is not part of our culture is lying to yourself. You can choose to like or dislike something but you can't say no one curses in Pakistan. Of course, if it's unnecessarily done, it'd feel awkward and unnatural."

Pasha feels Pakistani cinema shouldn't force an identity for itself and let it develop organically. "I don't think we don't have a voice of our own. We always get too scared about it that we don't have a distinctive voice. We do. If in a film, someone wears a sari, they don't automatically become Indian or if someone wears a churidar, they are not Pakistani. This is simply minimising yourself."




Akbar believes these opinions are created because we focus on others' stories, not our own. "Laal Kabootar is a film that tells our story," he said. "You'll see how we're similar and how we're different too."

The cast also notes Laal Kabootar stands apart from other Pakistani films. Of course, with the absence of Indian films in local cinemas, one can only hope it resonates with the audience. Asked about the current ban on Bollywood, Akbar said Pakistanis have grown up watching it. "If we say we don't listen to their music or watch their films, we are lying to ourselves," he stated.




"Whatever happens on a political level shouldn't intervene in our cultural industries. We don't understand what's happening and what reaches us through media is only one layer of the story so we shouldn't get too opinionated about it. On ground level, every civilian wants peace."

To end the interview, he urged everyone to watch Laal Kabootar. "I think it'll be a great cinema experience for the audience. The youth, especially, will love it. It has a similar flavour to the content they consume on the internet."

Have something to add to the story? Share it in the comments below. 
COMMENTS
Comments are moderated and generally will be posted if they are on-topic and not abusive.
For more information, please see our Comments FAQ