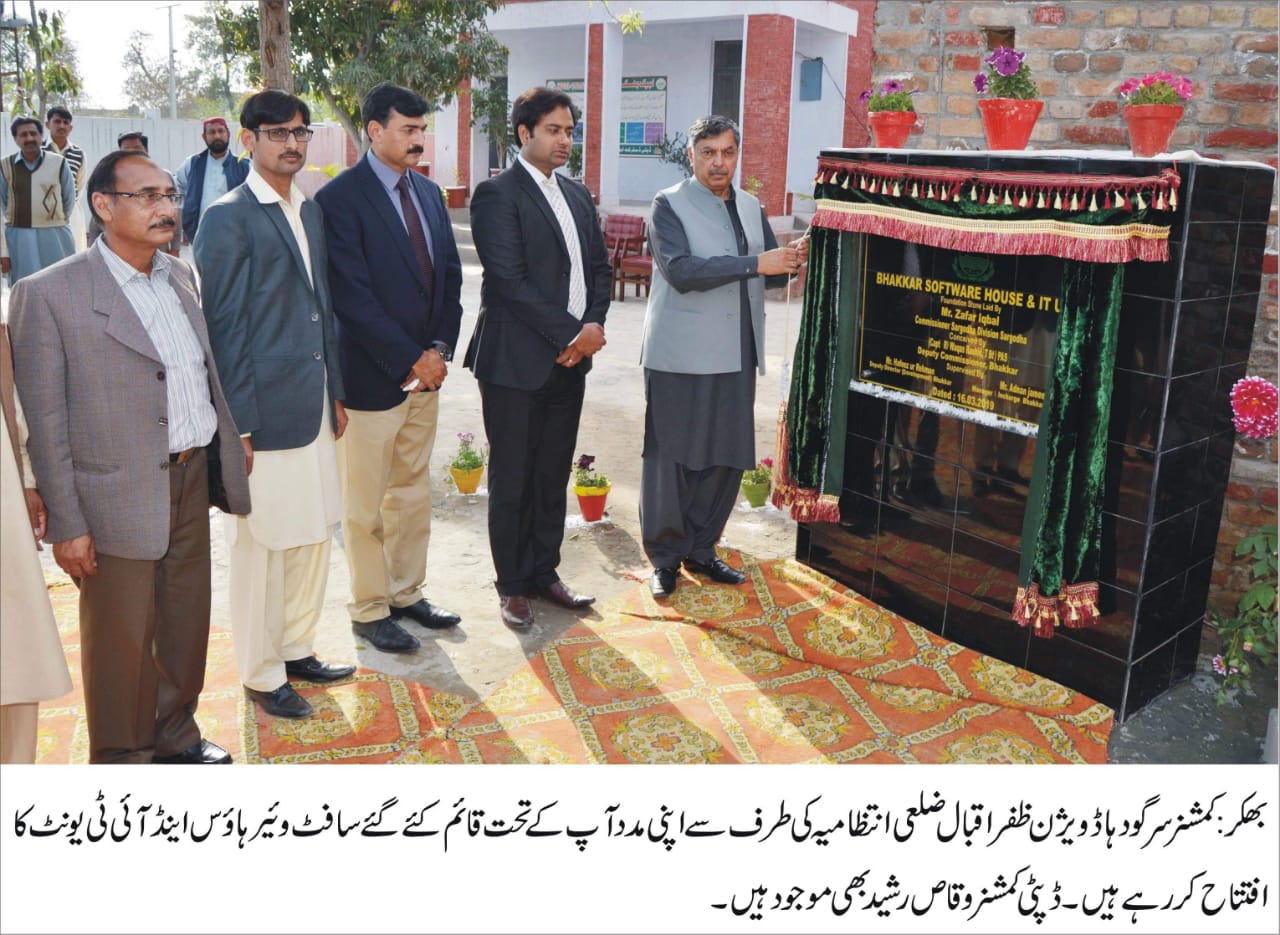 ---
BHAKKAR:

The first Software House and Information Technology Unit of Punjab, established in Bhakkar district, will guarantee a bright future for the young generation.

The aim is to build the capacity of students as the new building is equipped with a software house and modern facilities.

This was stated by Bhakkar Deputy Commissioner Waqas Rasheed as he spoke to Express News during the inauguration of the new IT Unit and Software House.

Sargodha Division Commissioner Zafar Iqbal was also present.

The deputy commissioner said he took the initiative to build the IT house to provide free modern facilities to the youth of Bhakkar at their doorstep.

He added Bhakkar had the honour of setting up the first information technology unit in Punjab.

"The aim is to impart the latest IT skills to the young generation through modern technology," he maintained.

"These youngsters will be provided software development training that will help them get jobs offered by online businesses in e-employment."

He highlighted that highly-qualified IT staff has been hired to train students and help them use modern technology in the unit.

"Establishing the IT Unit will help overcome illiteracy in the district. The youth will not have to travel to other cities to study related courses."

The DC said the IT Unit will be functional in the next few days.

While giving details of the features of the Software House and Information Technology Unit, Waqas Rasheed said the youth would be taught web development, mobile app development, graphics designing, online marketing, e-employment training, software IT skill training and e-library courses.

In addition, 20 working stations, high speed internet, info desk, printer, scanner, and multimedia services have been installed to facilitate the students, he said.

"This modern center has been established keeping in view the E-employment and to fulfill demand of IT professionals in the sector," the DC said.

Meanwhile, Sargodha Division Commissioner Zafar Iqbal appreciated the establishment of Software House and declared it the center of modern technology in IT sector.

On the occasion, Bhakkar Job Bureau officials told the commissioner that 2,234 unemployed people have been registered in the bureau and of them, 245 people have been provided jobs in different departments.
COMMENTS
Comments are moderated and generally will be posted if they are on-topic and not abusive.
For more information, please see our Comments FAQ