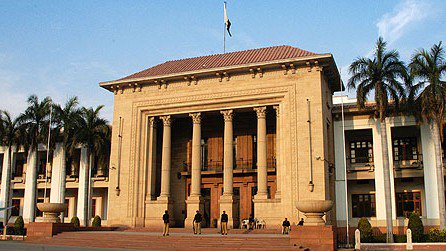 ---
LAHORE: Pakistan Muslim League-Nawaz (PML-N) MPA Hina Pervez Butt slammed Federal Minister for Human Rights Shireen Mazari's statement against Punjab Assembly lawmakers for passing The Punjab Public Representatives' Laws (Amendment) Bill 2019. The legislation would enable an increase in MPA salaries.

Butt, a member of the opposition benches, submitted a privilege motion in the Punjab Assembly Secretariat. She demanded Mazari be summoned to the house to explain her "derogatory remarks". The MPA also asked that the federal minister be restrained from making such statements in future.

She pointed out that Mazari, in her statement, said the Punjab Assembly directly violated Pakistan Tehreek-e-Insaf's (PTI) policy of a maximum savings and expense reduction. She further quoted the minister is saying that the PA's act was "highly shameful", especially at a time when the country was passing through its worst economic crisis. Mazari added that the move of

MPAs to increase their salaries was not only regrettable, but also shameful.

Butt raised an objection over the minister's use of the word "shameful". Being a member of the house, the MPA strongly condemned the remarks. "They have damaged the reputation of the house," she said.

Butt demanded in the motion that the federal minister be called to the house to provide an explanation over the mentioned remarks. She believed this would send a message to others to not use such language in future.

Both the treasury and opposition agreed to introduce a bill in the PA for an increase of their salaries. When it was passed, the lawmakers from both sides applauded each other over the move.

The Punjab Public Representatives' Laws (Amendment) Bill 2019 was tabled by PTI's Ghazanfar Abbas on March 12, 2019, and was immediately referred by Deputy Speaker Sardar Dost Mazari to the committee concerned for a report. Law Minister Basharat Raja did not oppose it, much to the delight of assembly members whose number was perhaps at its highest in the current sitting of the house. It was approved by the Punjab Assembly within 24 hours on March 13, 2019.

The bill aimed to increase salaries of the chief minister, ministers, speaker, deputy speaker, chairmen of committees, advisers, special assistants and all members through amendments to different laws related to each category.

It also approved an increase of amounts for their utility bills and sumptuary allowances etc. It also sought a revision of annual travel allowance of parliamentary secretaries from the existing Rs120,000 to Rs200,000.

Subsequently, PTI's politicians, including Prime Minister Imran Khan, strongly reacted to the bill and expressed their dismay by taking to social media platform Twitter.

"I am extremely disappointed by decision of Punjab Assembly to raise pays & privileges of MPAs, Ministers & esp CM. Once prosperity returns to Pak such a move cld be justified, but now, when we do not have resources to provide basic amenities to all our people, this is untenable," the PM wrote.

Federal Information Ch Fawad Hussain also took to Twitter and presented the view of the federal government. "Seems Punjab Government and the CM House is in the dark about the PM and the federal Govt austerity policies otherwise such sham exercise of awarding huge benefits to themselves would not have happened," he wrote.

On March 15, the impugned bill was challenged in the Lahore High Court by Advocate Chaudhary Shoaib Saleem who sought the suspension of its operation and asked that it be declared illegal.

He contended that Pakistan was passing through its worst economic crises and was making every possible effort to increase foreign reserves by borrowing money from various countries or by going to the International Monetary Fund (IMF). He added it was also wooing various heads of state to make an investment in Pakistan, but MPAs of the Punjab Assembly were more interested in increasing their salaries.
COMMENTS
Comments are moderated and generally will be posted if they are on-topic and not abusive.
For more information, please see our Comments FAQ