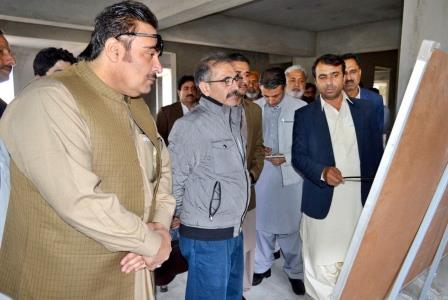 ---
QUETTA: The Balochistan government is devising new policies for the improvement of lifestyle of the residents in the province with the timely completion of projects being the priority, Balochistan Chief Secretary Dr Akhtar Nazeer said.

Visiting Khuzdar, the provincial chief secretary chaired a high-level meeting at the commissioner's office saying that Khuzdar was the central business point of Balochistan and would turn into a mega city as huge investment was being made in the area.

Kalat Division Commissioner Hafiz Muhammad Tahir briefed Chief Secretary Dr Akhtar Nazeer and IG Police Mohsin Butt regarding the relief and rescue operation carried out in the region during the recent rains and flashfloods.

Levies Director General Tufail Baloch and Deputy Commissioner Major (R) Muhammad Ilyas shared a comprehensive briefing on new appointments in the Levies Force and measures taken to strengthen the capabilities of the law enforcement personnel.

Chief secretary visits Ghosh Bakhsh Raisani hospital

"Better planning is the only solution to improve the prevailing situation in Balochistan. The government is working on policies to ensure the  provision of basic facilities to the people," the chief secretary said.

The chief secretary stressed the need for joint efforts to produce results and said periodic visits to the development sites were mandatory.

"The current government has been utilizing all resources for the provision of health, education and clean drinking water as that is the basic right of the people," he said.

He expressed satisfaction on the establishment of a trauma centre in Khuzdar and said that the facility would provide quality treatment to the patients.

Highlighting the importance of security in the area, the chief secretary said that law and order would be maintained through the joint efforts of the levies and the police on the Quetta-Karachi Highway, while trackers were also being installed in passenger coaches.

He further said, "The government would take steps to attract tourists in Khuzdar's Mola Chuttukh and Harboi sports. We have asked authorities to share PC1 for construction of highway at these two picnic sites."

Dr Nazeer directed the concerned department to expedite construction work on the Shaheed Sikandar University, Agha Irfan Kareem Memorial Hospital and Jhalawan Medical College.

He further added, "On March 19, we will be celebrating Pakistan Green Day following which saplings would be planted across the province".