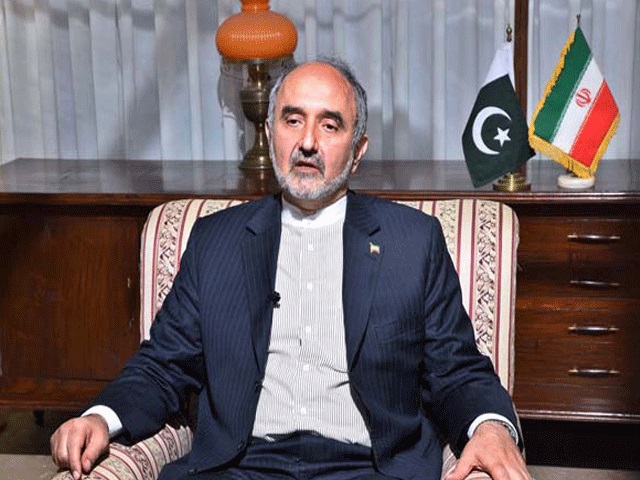 ---
The Iranian envoy in Islamabad on Friday held out an olive branch to Pakistan, calling for putting counter-terrorism cooperation at the top of their bilateral agenda as he suggested that a 'third party' was probably involved in last month's suicide bombing which left 27 elite Iranian Revolutionary Guardsmen dead near the border with Pakistan.

This was stated by Iranian Ambassador Mehdi Honardoost on Friday while addressing a lecture on 'Pak-Iran Relations: Current scenario and future prospects' at the Islamabad Policy Institute (IPI).

"Iran and Pakistan are victims of terrorism. This concern should be at the top of the agenda of negotiations and consultations between the relevant authorities," Honordoost stated while referring to a host of attacks on Iranian soldiers in the border areas with Pakistan.

Honardoost said the hand of a third party was evident in these incidents. Elaborating on this 'third party' he said it was the "one that was not comfortable with Pakistan and Iran sharing brotherly and friendly ties" and was also involved in facilitating extremism and terrorism.

He said he was confident that Pakistan and Iran would together foil the sinister designs of this 'third party'.

Speaking about the recent telephonic conversation between Prime Minister Imran Khan and Iranian President Hassan Rouhani, the ambassador said that the two leaders had reaffirmed their pledge to cooperate on boosting border security.

He added that Iran has maintained communications with its Pakistani counterparts on all issues. Now, he added, the two countries were exploring new areas of cooperation.

Talking about Saudi Arabia's planned investment in Gwadar, close to Iranian territory, the envoy assured that Tehran was not concerned about the constructive engagement of any country with Pakistan.

"We expect solidarity, cooperation, and interaction between Pakistan and other Muslim countries to improve," he said.

He, however, emphasised that it was Pakistan's obligation as a responsible country that such cooperation is not misused.

Published in The Express Tribune, March 16th, 2019.