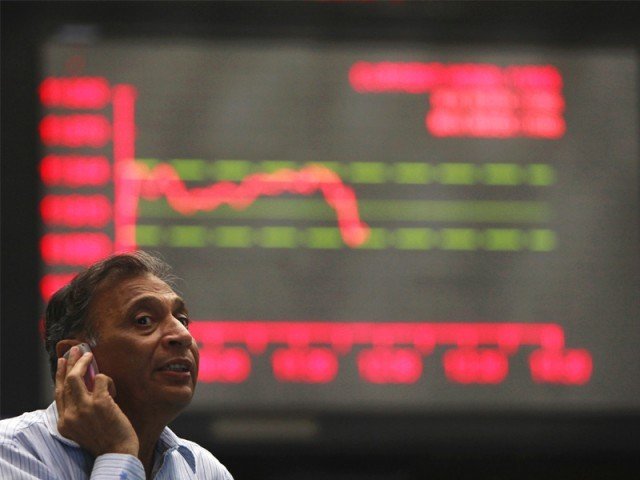 ---
KARACHI: Bears dominated the stock market on Friday as the KSE-100 index shed over 500 points following fresh projection of economic slowdown and in the absence of major positive triggers.

The index went down as Fitch Solutions, in a research note, anticipated that Pakistan's economic growth would slow down to 4.1% of gross domestic product (GDP) in FY20 coupled with reports of cancellation of $3.2 billion worth of oil facility from the United Arab Emirates (UAE).

News of expected further hike in power tariff fueled negative investor sentiments and played a major role in the bearish close of the market.

The revision of emission standards by the International Maritime Organisation, effective 2020, led to the hammering of refinery stocks and the entire sector remained in the red.

Market watch: KSE-100 retreats amid lacklustre trading

Following a brief positive start, selling pressure emerged at the bourse which persisted for most part of the day. In the first session, over 350 points were wiped out of the KSE-100 index.

The second session kicked off on a positive note, sparking hopes of a recovery, but the expectations were dashed soon as investors resorted to profit-booking, pushing the market close to the 38,300-point mark. Index-heavy sectors including automobile, cement and financial lost ground.

At the end of trading, the benchmark KSE 100-share Index recorded a decrease of 501.66 points, or 1.29%, to settle at 38,306.95.

JS Global analyst Maaz Mulla said the benchmark index came under pressure and lost 502 points to stand at 38,307.

"Traded volumes increased 51% to 129 million shares while traded value increased to $33 million," he said. "Major contribution to the total market volume came from The Bank of Punjab (-3.5%), K-Electric (-3.9%) and Unity Foods (-4%), which cumulatively contributed 62 million shares."

Major heavyweights namely Lucky Cement (-4.2%), Pakistan Oilfields (-2.8%), Pakistan Petroleum (-1.3%), Habib Bank (-1.6%) and MCB Bank (-1.7%) dragged the index down by 178 points.

Cement and banking sectors came under the hammering where big players such as Maple Leaf Cement (-4.7%), DG Khan Cement (-4.8%), Pioneer Cement (-4.8%), Lucky Cement (-4.2%), Habib Bank (-1.6%), MCB Bank (-1.7%) and Bank Alfalah (-1.7%) lost value.

National Refinery (-5%), Pakistan Refinery (-3.2%) and Attock Refinery (-3.4%) closed lower on the back of news that the International Maritime Organisation would enforce new emission standards, requiring ships to use fuel oil with sulphur content of less than 0.5% compared to the current 3.5%. It would impact sales of local refineries producing fuel oil with sulphur in the range of 1-3.5%.

Market watch: KSE-100 snaps six-day losing streak, inches up slightly

The new standards will come into effect from January 2020.

"In the local market, we expect overall lacklustre sentiments to persist due to absence of major triggers and recommend investors to stay cautious," the analyst added.

Overall, trading volumes increased to 129.47 million shares compared with Thursday's tally of 85.9 million. The value of shares traded during the day was Rs4.6 billion.

Shares of 324 companies were traded. At the end of the day, 61 stocks closed higher, 249 declined and 14 remained unchanged.

The Bank of Punjab was the volume leader with 38.6 million shares, losing Rs0.5 to close at Rs13.87. It was followed by K-Electric with 17.03 million shares, losing Rs0.23 to close at Rs5.67 and Unity Foods XR with 6.25 million shares, losing Rs0.56 to close at Rs13.61.

Foreign institutional investors were net buyers of Rs288.5 million worth of shares during the trading session, according to data compiled by the National Clearing Company of Pakistan.