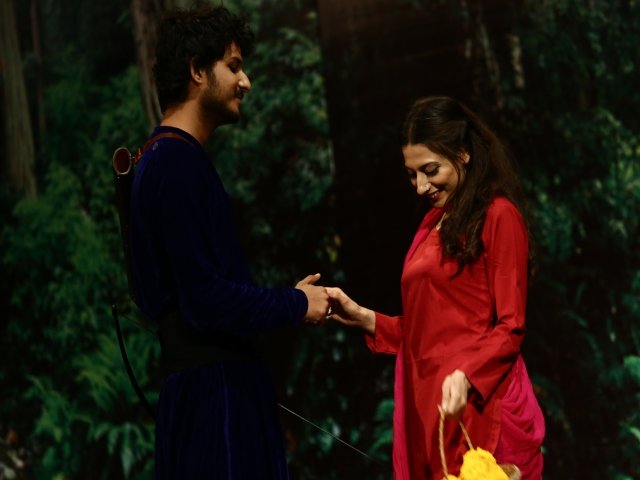 ---
KARACHI: Understanding Shakespeare is no walk in the park.

The idiom, meter and flow of the Elizabethan English are difficult to circumvent, even for the few native English speakers, let alone the colonised many. Yet, the legendary writer's interplay of hopes and fears manages to melt frozen hearts and pick on dead brains. Perhaps not in the most woke fashion, but the Shakespearean drama is so finely constructed, it continues to inspire contemporary television writing even centuries later.

Master thespian Zia Mohyeddin has been toiling with Shakespeare's problem plays off late and the opening night of Napa International Performing Arts Festival saw him direct excerpts from A Winter's Tale, titled Mureed-e-Shak. It was Agha Hashr's Urdu adaptation minus his additions and some other scenes, bringing it down to a nice and light, one-hour-and-15-minutes-long run, instead of three hours. The cast comprised of Napa's graduating batch who remembered the lines well, with flashes of a promising future.




The scene in which Antigonus is pursued by a bear has always been the highlight of A Winter's Tale from a staging point of view but sadly enough, it was not included in the script. The production solely focused on the moments of Leontes' peak drama: how the seed of jealousy sows itself in the beginning and how it all works out for the king and everyone else.

The play is essentially about the journey that Leontes, the king of Sicillia, goes through. But Mohyeddin's tight production robbed us of the many side moments and set pieces that were equally entertaining, if not significant. What seemed like his take on Shakespeare from a distance turned out to be a bunch of young actors being directed by him, which is great for the industry but not something that a theatre aficionado would look forward to.

In Mureed-e-Shak, Mohyeddin essentially takes Shakespeare for a walk and comes back with Hashr. The latter has his own pedestal in Urdu literature but to a millennial audience, the translation of Edwardian couplets might seem more like an inroad into the dying mushaira culture, rather than conversations that rhyme. How the audience lauded the dialogues with 'wah' and even a 'Subhan Allah' says so much about our fondness for short couplets that can be understood and appreciated, which surely musn't have been the intention behind a puritan like Mohyeddin but well, 'and thereby hangs a tale.'




Under the tutelage of the finest thespian of our era, a number of new actors shined. Rahil Siddiqui as Feroz was brave, more open to the audience with the potential for more commanding roles in the future. Fajar Sheikh could be the highlight of Napa's newer lot in terms of actresses for her voice has the 'tenderness' that directors in our industry crave and the throw that theatre demands.

Other cast members of the play included Naveed Kamal, Samahan Ghazi, Safia Zahir Ali, Salman Ahmed, SM Muntazir, Faiza Chawla, Shumila Taj, Ansar Mahar, Zohair Zubair, Asfand Yar, Abdul Hafeez, Ahad Taqueer, Malik Farhan Aziz, Saim, Hussnain Raza and Qasim Shah.

The International Performing Arts Festival is taking place at Napa till March 31, offering a new performance every day. This particular performance featured only students and so, won't be rated.

Have something to add to the story? Share it in the comments below.
COMMENTS
Comments are moderated and generally will be posted if they are on-topic and not abusive.
For more information, please see our Comments FAQ