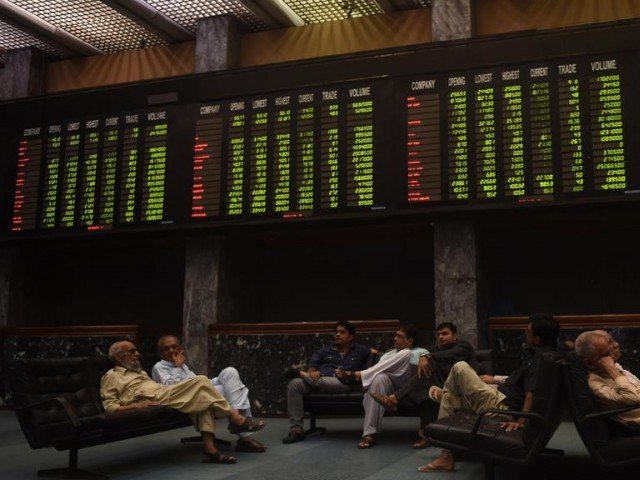 ---
KARACHI: The KSE-100 index remained flat for the second consecutive session on Tuesday due to economic slowdown and a dearth of positive triggers.

The index started the day upwards, but the momentum soon turned negative and the trend persisted throughout the day as the equity market was going through a rough ride nowadays.

Delay in finalising an International Monetary Fund's (IMF) loan programme also restricted investors from taking fresh positions in the market. Moreover, tensions between Pakistan and India despite some de-escalation moves discouraged market participation.

At the end of trading, the benchmark KSE 100-share Index recorded a decrease of 27.62 points, or 0.07%, to settle at 38,896.49.

Market watch: KSE-100 inches down amid massive foreign selling

JS Global analyst Maaz Mulla said in line with expectations, the market remained volatile, hitting intra-day high of 106 points and intra-day low of 276 points. It closed the day down by 28 points at 38,896.

Major contribution to the index came from Oil and Gas Development Company (+1.2%), Pakistan Petroleum Limited (+0.4%) and Lucky Cement (+0.7%) as they cumulatively contributed 38 points to the index.

On the flip side, major losers were Honda Atlas Cars (-4.4%), Meezan Bank (-5%), Habib Bank (-1.5%) and MCB Bank (-1.3%) as they cumulatively erased 93 points from the index.

Trading volumes stood at 90 million shares as compared to 68 million in the previous trading session, the analyst said.

The Bank of Punjab (+0.4%) was the volume leader with more than 11 million shares changing hands.

"On the news front, at the launch of a low-cost housing scheme, Prime Minister Imran Khan stated that the scheme is a step towards poverty reduction as housing construction activity will help boost 40 allied industries, creating new employment opportunities in the country," Mulla said.

Active participation was noted in the cement sector where Maple Leaf Cement (+1.9%), DG Khan Cement (+1.5%), Fauji Cement (+1.6%) and Lucky Cement (+0.7%) moved up.

In the banking sector, Habib Bank (-1.5%), MCB Bank (-1.3%), Bank Alfalah (-1.2%) and Meezan Bank (-5%) lost value.

"We expect overall lacklustre sentiments to persist due to absence of major triggers. We recommend investors to stay cautious," he added.

Market watch: KSE-100 loses 274 points amid lack of positive triggers

Overall, trading volumes increased to 89.7 million shares compared with Monday's tally of 67.7 million. The value of shares traded during the day was Rs3.9 billion.

Shares of 332 companies were traded. At the end of the day, 159 stocks closed higher, 153 declined and 20 remained unchanged.

The Bank of Punjab was the volume leader with 11.6 million shares, gaining Rs0.06 to close at Rs14.15. It was followed by WorldCall Telecom with 8.8 million shares, losing Rs0.05 to close at Rs1.3 and Dewan Cement with 7.9 million shares, gaining Rs0.34 to close at Rs13.01.

Foreign institutional investors were net sellers of Rs53 million worth of shares during the trading session, according to data compiled by the National Clearing Company of Pakistan.