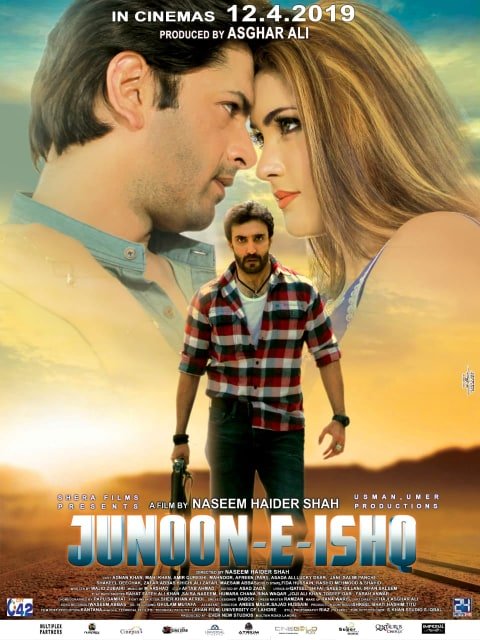 ---
LAHORE: The ban on Indian content within Pakistan has meant that more local films are required to fill up cinema screenings. Exhibitors can breathe a sigh of relief for now as Urdu film Junoon-e-Ishq is expected to release on April 12, 2019.

Helmed by Lahore-based director Naseem Haider Shah and produced by Asghar Ali, Junoon-e-Ishq is a love story. Most of the songs featured in the film have been crooned by renowned singer Rahat Fateh Ali Khan.

According to Naseem, they aim to release the film in a hundred local cinemas. Details provide that cinema owners in Pakistan, especially Lahore, are engaged in preparations for the release. It is pertinent to mention here that due to the prohibition of Indian films, cinema owners faced numerous issues over the last two weeks as they didn't have enough local content and so, are playing old Pakistani films to maintain footfall.

However, owners are hoping for things to get better month, after the release of Junoon-e-Ishq. Promotional campaigns are ongoing all over Pakistan, including social media and billboard advertisements.

Meera stuns in first look of upcoming film 'Baaji'

Parts of the film were shot in Naran, Kaghan Valley, while other parts were filmed in Bangkok and UK. Junoon-e-Ishq features a new cast comprising Adnan Khan, Mahi Khan, Mustafa Qureshi's son Amir, stage actor Mahnoor, Afreen Pari, Rashad Mahmood and others.

Famous film writer Wajid Zuberi has provided the script and music director M Arshad has composed the music for the film. Besides Rahat, Saira Naseem, Humaira Channa and Joji Ali Khan have also provided songs for the film.

Speaking with The Express Tribune, the director opened up about his expectations for Junoon-e-Ishq. It is important to mention here that Naseem has directed around 30 films within Lollywood and is among some of the top directors in Lahore.

"We are taking this film as a challenge," he began. "At this moment in time, it is a matter of our industry and we have to prove that Pakistani directors can also produce good films."

The director went on to state how proud he is to see all of Pakistan united. "It is very heartwarming to see the people of Pakistan united with regard to the prohibition of Indian content. I am very hopeful to see our local film flourish and succeed."

Describing his upcoming venture, Naseem said, "This is a musical love story but we are also trying to provide a message to viewers: an excess of everything is detrimental and the same applies to love."

Amir will be seen playing a negative role while Adnan essays the male lead. He has previously been seen in films like Mohabbataan Sachiyaan and Ishq Positive. "Most of our most cast is young and we have brought in many new faces. Besides this, we also worked hard on the choreography and engaged one of the best choreographers within the country, Papu Samrat."

He added, "Currently, we are busy advertising the film. Next week, the cast will be visiting various cities for promotional events and I am expecting that with the success of this film, the business of film-making will increase within Pakistan."

Have something to add to the story? Share it in the comments below.