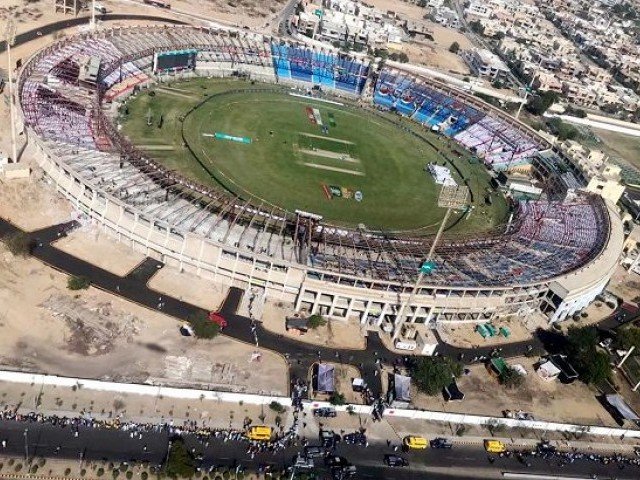 ---
KARACHI: It is after a long time that Karachi is giving a festive look and its residents are seen in a joyous mood due to the Pakistan Super League (PSL) matches that began on Saturday and will continue till March 17. It has indeed driven cricket lovers into frenzy.

However, the security and traffic plans being executed by the law enforcement agencies and the city administration give the impression of a siege laid around the National Stadium. The closure of some important thoroughfares and restrictions on the movements of residents living in areas around the National Stadium is a source of major inconvenience for people.

The main roads that will remain closed for traffic during these matches include Stadium Road, Karsaz Road, Dalmia Road and Sir Shah Suleman Road from Hasan Square onwards.

While residents living in localities close to National Stadium would, according to plan announced, will be allowed to enter and leave their homes after showing their CNICs to the security personnel on duty.

Security arrangements, alternative routes planned for PSL 2019

The Stadium Road is home to some very important facilities and institutions. Country's two major health facilities and medical education institutions - Aga Khan University Hospital (AKUH) and Liaquat National Hospital (LNH) and medical colleges -- are situated on this road. In addition to these facilities the Pakistan Television Station, Liaquat National Library, Khatoon-e-Pakistan Government Degree College for Women and Raana Liaquat Ali Khan Government College of Home Economics are also there on the Stadium Road. While the official announcement said that the patients on ambulances with their attendants would be allowed to visit AKUH or LNH, the representatives of both the hospitals believed that it would cause major inconvenience to hundreds of patients visiting the facilities daily.

What is adding more to the commuters suffering was that only week before the PSL matches started, the Sindh government initiated major construction work on Shaheed-e-Millat Road which is normally used as an alternative artery for the Karsaz Road.

The closure of Dalmia Road will also be source of inconvenience to students of the Bahria University and the people going to attend marriage ceremonies and parties at a number of halls situated on this road.

Poor planning

While talking to The Express Tribune on the condition of anonymity, a high level official of the Sindh government said that the schedule of the tournament was announced over a month ago and the authorities should have chalked out an alternative plan then.  The arrangements they have made for the PSL event are poorly planned, he said adding that Stadium Road, Karsaz Road and Dalmia Road should not have been closed for traffic. Only the road extending from National Stadium Flyover, Hasan Square Flyover and the passage in between should have been closed, he said. According to him, there was no point in closing nearby roads which serve as crucial thoroughfares of the city.

In light of the current situation and past incidents of terrorism, there is always a security threat but a comprehensive security plan was not formulated. This left no option but to close roads on such a large scale, said the official. The current plan will lead to traffic jams throughout the city, he added.

PSL fever: Taking over Pakistani public and politicians alike

Inconvenienced citizens

"The authorities have not made their plans clear. We do not know about the duration for which our shops will be closed," said citizen Muhammad Amir, who owns a garment shop at Mashriq Centre near the Civic Centre. During PSL matches in 2018, we were told to keep our shops shut from 4pm till the morning, added Amir. He said that he and others were waiting for the new schedule and instructions to be given.

Ahmed Ali, a resident of Karim Plaza, next to Civic Centre, said that residents faced a lot of trouble last year when PSL matches were held in Karachi. However, the road adjacent to East DMC office was left open for traffic at the time and residents were able to commute, he said adding that it would be better if similar arrangements were made now as well.

East District Assistant Commissioner Sajida Qazi told The Express Tribune that despite being the spokesperson for the district administration for the PSL event, she could only comment on the parking arrangements. She said she did not know about the duration for which the key roads would be closed for traffic during the matches or whether the road adjacent to Civic Centre will be open for area residents. These questions could be better answered by relevant officials of the traffic police, she added.

Multiple attempts were made to contact East deputy commissioner and Traffic DIG but they were unavailable.

Published in The Express Tribune, March 10th, 2019.
COMMENTS
Comments are moderated and generally will be posted if they are on-topic and not abusive.
For more information, please see our Comments FAQ