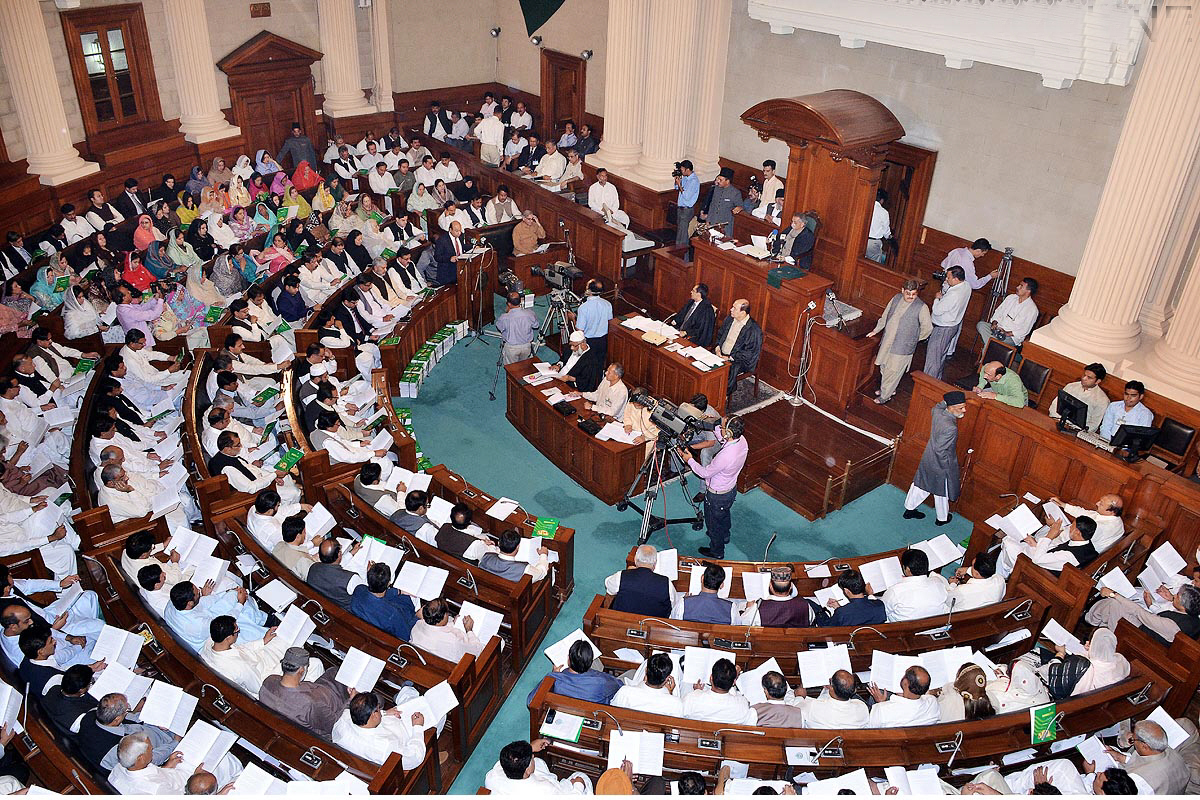 ---
LAHORE: Proceedings at the Punjab Assembly were initially a heated affair, but soon the treasury and opposition came on one page to unanimously pass a resolution related to International Women's Day.

The assembly's atmosphere reached boiling point when PML-N's Malik Muhammad Ahmed defended his party against the claim of Minister for Industries, Commerce and Investment Mian Aslam Iqbal who was adamant to establish corruption in the previous government.

During the question-answer session, Malik Ahmed framed a supplementary question to Minister for Law Raja Basharat over the current condition of the Lahore Waste Management Company. Minister Aslam Iqbal responded and put the onus of LWMC's corruption on the previous government run by PML-N.

OICCI reiterates commitment for women empowerment on International Women's Day

This angered Malik Ahmed who requested panel chairman Mian Shafi to restrain Iqbal from using "street level" language. He pointed out that the lawmakers were present in the Punjab Assembly and not the local area square.

Iqbal reiterated that PML-N was fully involved in corruption while awarding contracts. Malik Ahmed retorted by saying his party had not committed any corruption. He said PML-N awarded contracts at the cheapest rate.

As both sides continued to butt heads, their debate reached a fever pitch. After exchanging some fiery arguments, Malik Ahmed walked towards Iqbal aggressively, but other members of the assembly intervened to pacify the situation.

Former Speaker Rana Muhammad Iqbal Khan expressed his gloom, saying the minister concerned, Raja Basharat, should have responded to the queries instead of Mian Aslam Iqbal. Mian Shafi restrained Iqbal from responding to queries related to local government.

PM Imran reaffirms commitment to providing secure, enabling environment for women

Later, legislators from both sides paid tribute to women on International Women's Day. While some emphasised on women empowerment, others stressed the need to remove loopholes so that women could stand alongside men in every field.

PML-N senior politician Shaikh Allauddin applauded women's role in every field. He stressed women should help men as this was a difficult time for the entire nation.

PML-N's Hina Pervez Butt presented an out-of-turn resolution which was unanimously passed. The resolution states: "This house pays tribute, not only to the women of Pakistan, but across the world on 'International Women Day'.

Published in The Express Tribune, March 9th, 2019.
COMMENTS
Comments are moderated and generally will be posted if they are on-topic and not abusive.
For more information, please see our Comments FAQ