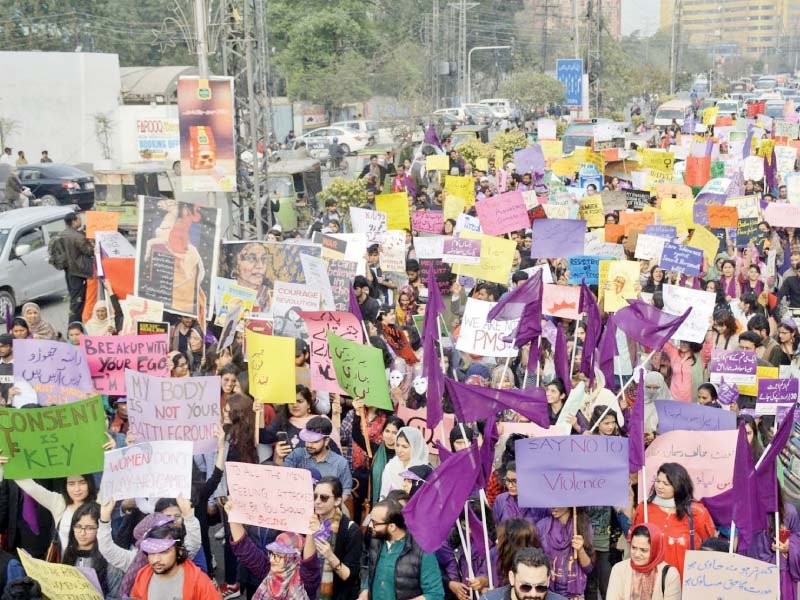 ---
LAHORE: Gender rights activists across Lahore held an Aurat March which started from the Lahore Press Club and culminated at Alhamra Arts Council on Mall Road to mark International Women's day.

The march was organised to mark the women's struggle and movement in Pakistan. It was part of a series of marches across the country and was held in Lahore, Hyderabad, Karachi and Islamabad. The protestors across the country had gathered under the banner of "Hum Aurtain" or Us Women.

The organisers of the march, at an earlier press conference, said the event was open to all: women, transgender individuals, gender non-conforming persons and men.

Rally planned to mark International Women's Day

The protestors were carrying placards condemning discrimination, oppression against women and demanding equality. They were chanting slogans in favor of women's liberation and an end to patriarchy.

A participant of the march, said, "We stand arm-in-arm with women resisting economic exploitation at the hands of a patriarchal-capitalist structure and with those speaking out against violence — from Khaisor to Lahore."

Leena Ghani, another demonstrator, said marchers identified their struggle as deeply political. However, she added none of them were aligned with any political party, organisation or corporation. This will be our second year organising the march, she added. "It has been such a rewarding, wonderful and humbling experience. Last year, our focus was equality and this year we are focusing on sisterhood and solidarity. Why? Because that's what this work has taught us." She said the march would not have been possible without the efforts of many people and each other's support.

"We are all people with multiple identities, backgrounds, experiences and lives," she added. Ghani stated that while that brings a diversity of ideas and actions, the women were united in their vision of crafting a world without discrimination, division, war, militarism, police brutality and enforced disappearances.

Another activist, Nighat Dad, said the movement was also organic and had no funding from any corporation. "It is women talking about their rights, their demands and everyday life obstacles."

She said this march was organised for such women, who were also at the forefront of the event. "Our manifesto, basically, highlights economic justice and equal pay. It talks about police brutality, the tribal areas and we talk about the women in Balochistan. We are not afraid and talk about every woman in Pakistan.

During speeches on the occasion, an assistant professor from a women's university, belonging to a minority, said it was unfortunate that women from minorities had no protection in terms of marriage and divorce due to the absence of rules of business.

An activist of Progressive Students Collective (PSC), Mohiba Ahmad, said it was impossible for an individual woman to be liberated without the liberation of all women.

She said that her speech was dedicated to oppressed women, inclusive of working women, victim of domestic violence, those killed for honor, women of the khaisoor incident and others.

OICCI reiterates commitment for women empowerment on International Women's Day

She said women were marching as they were promised nothing in this society. "They were silenced. Everything in this society for women is expensive. Only death is cheap," she added. She condemned every unjust death of the women in the last 5,000 years.

Other speakers also spoke on the occasion and highlighted different dimensions of the issue.

Skits and plays highlighting the issues of harassment and the demand of gender-equality were performed on the occasion.

Besides, poetry and music was also part of the occasion.

"Aurat Barabri March", organised mainly by Awami Workers Party (AWP), starting from Hamdard Hall and ending at Punjab Assembly, was also organised. Other events were also held to mark the occasion.

Published in The Express Tribune, March 9th, 2019.
COMMENTS
Comments are moderated and generally will be posted if they are on-topic and not abusive.
For more information, please see our Comments FAQ