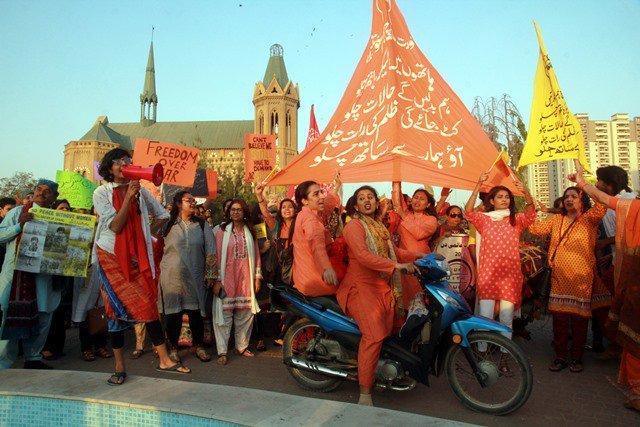 ---
KARACHI: International Women's Day (IWD) falls on March 8, with a new theme, hashtag and evolved inspiration every year. Women (and men) from all walks of life around the globe promote gender equality, but fighting this big task is no longer confined to protests on the street. Social media has a greater role to play in spreading awareness than ever before. Through the digital world, exceptional global movements for women and their rights, equality and justice are sky-high.

In recent times, women of different ages, class, faith and nationalities are coming together for international campaigns such as the #MeToo. Hashtags have tremendous power as an effective way to sift through the chaos of social media. They also take a life of their own, becoming slogans and electrifying social movements. With local, national and global political conversations taking place world over, it's no wonder this tactic has fast become popular, even amongst women's rights movements.

#BalanceforBetter

The IWD campaign theme for this year is about building a gender-balanced world where the future looks exciting. We are entering an interesting period in history where the world is now expecting balance, because it drives towards a better working world. Women and men unite on a global level to create #BalanceforBetter.

#WhyIMarch




Ahead of the revolutionary Aurat March 2019, women around Pakistan, no matter the caste, creed or religion are taking to Twitter to list down their reasons of attending under the hashtag #WhyIMarch. With IWD also falling on the growing movement, women from major cities across Pakistan will gather to highlight a diverse range of issues including sexism, sexual harassment and toxicities within the culture.  This year, the team organising the event has been working tirelessly behind the scenes to raise awareness for women belonging to different backgrounds and how they too can play a vital role in bringing about change.

Check out tweets from journalists, lawyers and locals around the country sharing their #WhyIMarch tweets before the big day:

https://twitter.com/BenazirJatoi/status/1103239092140195840

https://twitter.com/girlsatdhabas/status/1103004724494852097

https://twitter.com/aysharalam/status/1103288893263265793

https://twitter.com/nidkirm/status/1103034738464440322

https://twitter.com/KhanShehryar2/status/1103538299866624001

Share the inspiration

As we know, social media is a powerful and effective tool to spread awareness and raise support for the cause, whether it will be at Aurat March or for IWD. Taking a few minutes to put a meaningful and inspirational post on social media is an easy but helpful way to potentially make a statement for the day.

Here is a collection of inspirational musings and sentiments about the gender gap, women's rights, safety and gender equality. IWD states the more noise you make, whether it be through tweets, Instagram captions or Facebook posts, the closer we could all get to #BalanceForBetter.




"I raise up my voice – not so I can shout but so that those without a voice can be heard...We cannot succeed when half of us are held back." – Malala Yousafzai.




"It is not easy being a woman anywhere.  Moreover, for women leaders, the obstacles are greater, the demands greater, the barriers are greater, and the double standards are greater." – Benazir Bhutto




"Fear is just a line in your head; you can choose what side of that line you want to be on." – Sabeen Mahmud




"I could not find a hero in my life, so I became one." – Muniba Mazari




"My religion is humanitarianism, which is the basis of every religion in the world." –  Abdul Sattar Edhi

Have something to add to the story? Share it in the comments below.
COMMENTS
Comments are moderated and generally will be posted if they are on-topic and not abusive.
For more information, please see our Comments FAQ