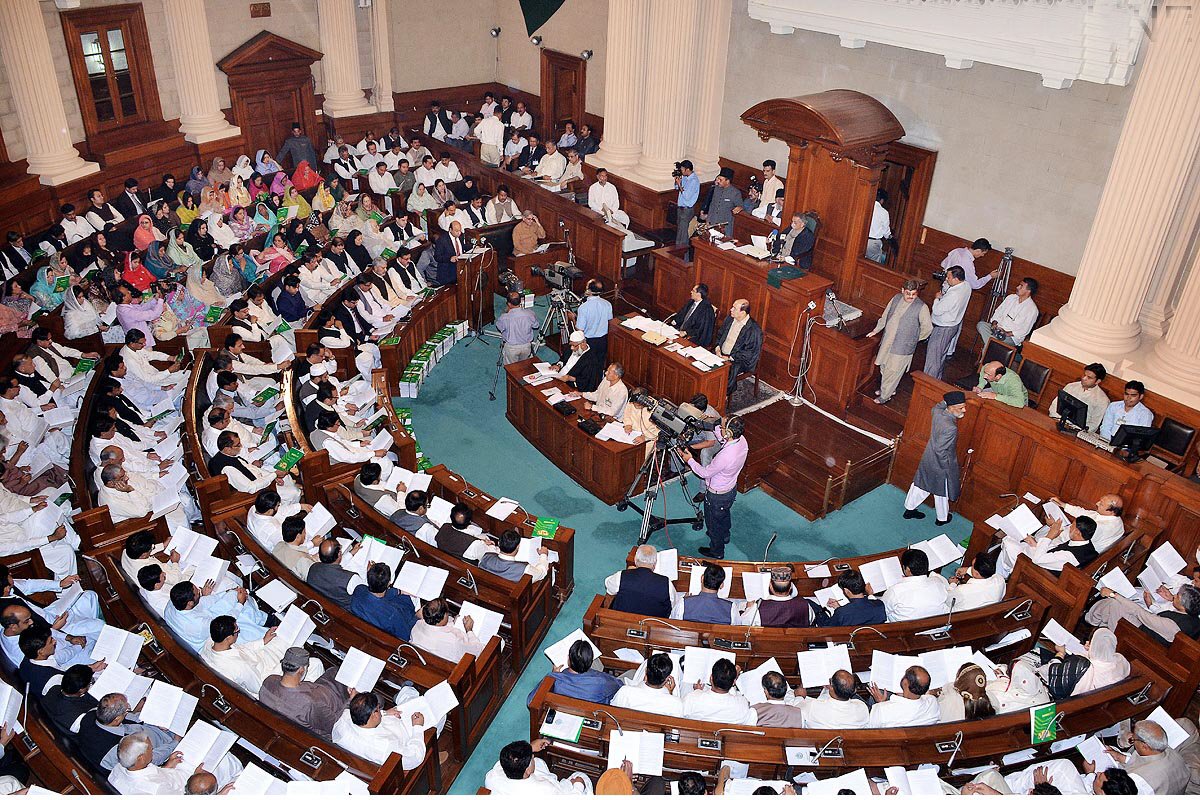 ---
LAHORE: Pakistan Muslim League-Nawaz (PML-N) lawmakers protested over the failure of the Punjab government to provide proper medical facilities to three times prime minister Mian Nawaz Sharif.

As the session kicked off, PML-N's Rana Muhammad Iqbal Khan, a former PA speaker, said on a point of order that Nawaz Sharif had served as prime minister on three occasions and was also a member of the house. "Yet, he is not getting proper treatment."

"Nawaz Sharif is the leader who made Pakistan an atomic power, but he doesn't have basic health facilities these days. He has been unable to get an angiography for the last 59 days," Iqbal said. He asked the chair to order authorities concerned to make proper arrangements of Sharif's treatment.

Meanwhile, speaking on a point of order, former minister for health Khawaja Imran Nazir said if any anything unfortunate happens to Sharif, the government and Imran Khan would be held responsible. He added Nawaz got over 12.9 million votes, but the incumbent government had made a joke of his illness.

The chairman of the Punjab Institute of Cardiology recommended an angiography for Sharif, but he was shifted to Kot Lakhpat Jail where he is still in poor health. The PML-N MPAs, including Khalil Tahir Sandhu and Khawaja Salman Rafique, stood from their seats and chanted slogans against the government. They called for Sharif's release and told PTI to have some shame. The PML-N MPAs then walked out of the house in protest.

Speaking about the walkout, Punjab Minister for Law and Parliamentary Affairs Raja Basharat termed it as an undemocratic act. He said the opposition should also listen to the government's point of view. "We learnt yesterday that Nawaz Sharif is not feeling well. Then the Home Department issued a notification to shift him to the hospital from jail, but he refused, said Basharat.

He found it strange that a prisoner wanted to treatment within the premises of the jail facility. He added Nawaz Sharif wanted courts to issue verdicts which suit him; something that is reflected in the way he is asking for medical treatment.

PA Deputy Speaker Sardar Dost Muhammad Mazari, who was chairing the session, said PIC is a good hospital for heart diseases. The deputy speaker claimed that he had personal experience of the hospital's treatment." Perhaps Nawaz Sharif wants to get treated from aboard," said the chair.

Some other ministers also criticized the PML-N and its leadership, claiming Sharif, under the garb of treatment, wants some leeway in the cases he is facing.

Punjab minister for Industries Mian Aslam Iqbal said PML-N is raising a hue and cry because as its 'political death' was imminent. "They are boycotting the assembly session because their corruption cases have started surfacing," he said. Criticising the previous government, the minister said its lawmakers didn't bother to build hospitals and kept spending funds on building roads and bridges. He pointed out that projects of such a nature resulted in kickbacks.

The opposition refused to return to the house and the government passed a bill related to 'Mir Chakar Khan Rind University of Technology in DG Khan' in its absence. The session was later adjourned till Thursday morning.
COMMENTS
Comments are moderated and generally will be posted if they are on-topic and not abusive.
For more information, please see our Comments FAQ