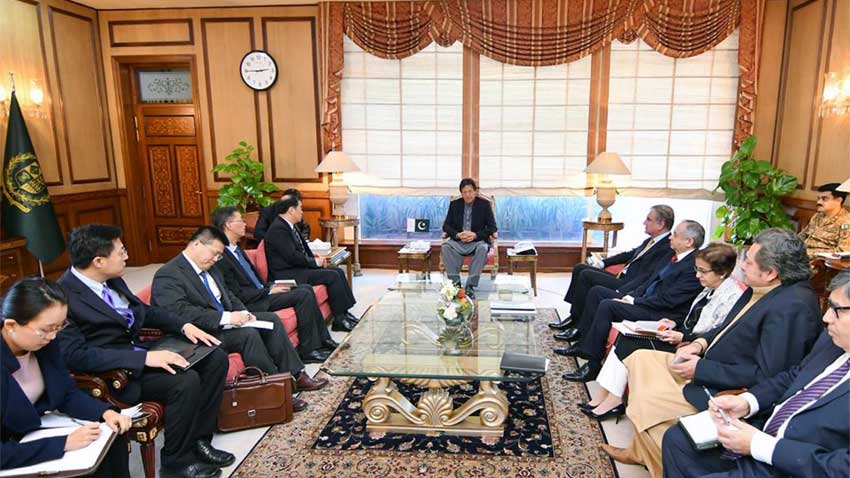 ---
China's Vice Foreign Minister Kong Xuanyou has reiterated China's support to Pakistan for peace and stability in the region and also acknowledged Islamabad's measures against terrorism.

Xuanyou, who concluded his two-day official visit to the country on Wednesday, also underscored that Pakistan and China are close friends and partners, said a statement issued by the Foreign Office.

During his stay in Islamabad, he called on Prime Minister Imran Khan, Chief of Army Staff (COAS) General Qamar Javed Bajwa and Foreign Minister Shah Mehmood Qureshi. He also held talks with Foreign Secretary Tehmina Janjua at the Ministry of Foreign Affairs.

The two countries reaffirmed their "time-tested and all-weather strategic cooperative partnership" during the meetings, said the FO statement, adding that Islamabad thanked Beijing for its steadfast support.

PM's decision to release Indian pilot praised across the world: FM Qureshi

The Chinese vice foreign minister was briefed on Pakistan's efforts to resolve all issues with India through dialogue.

"China has paid close attention to the present situation between Pakistan and India, and appreciates Pakistan's remaining calm and exercising restraint from the beginning, and persisting in pushing to lower the temperature with India via dialogue," the ministry paraphrased Kong as saying.

China maintains that the sovereignty and territorial integrity of all countries should be respected and does not want to see "acts that violate the norms of international relations", Kong added.

"China calls on Pakistan and India to refrain from taking actions that aggravate the situation, show goodwill and flexibility, launch dialogue as soon as possible, and work together to maintain regional peace and stability," he said.

Both sides noted with satisfaction the strong bonds in their bilateral relations and agreed to further enhance cooperation and coordination at all levels.

Meanwhile, matters of mutual interest, regional security, bilateral cooperation and current situation between Pakistan and India were discussed in VFM Xuanyou's meeting with Army Chief General Qamar.

"Visiting dignitary appreciated Pakistan's efforts for regional peace and stability," said DG ISPR Major General Asif Ghafoor on Twitter.


H.E Mr Kong Xuanyou, Vice Foreign Minister of China called on COAS. Matters of mutual interest, regional security, bilateral cooperation and current situation between Pakistan and India discussed. Visiting dignitary appreciated Pakistan's efforts for regional peace and stability. pic.twitter.com/rFnKJX2WnI

— DG ISPR (@OfficialDGISPR) March 6, 2019


The Chinese diplomat's visit comes as tensions between Pakistan and India escalated rapidly following a suicide car bombing on February 14 that killed at least 40 Indian paramilitary police in Indian-occupied Kashmir.

Ball is now in India's court: DG ISPR

New Delhi accused Islamabad of harbouring the Jaish-e Mohammad group behind the attack, which Islamabad denied, and Prime Minister Narendra Modi promised a strong response.

Pakistan said the Indian planes missed whatever they were aiming at, and that nobody died in the attack outside Balakot in Khyber-Pakhtunkhwa (K-P).

On March 2, Pakistan handed back a captured Indian pilot Abhinandan whose MiG-21 jet was shot down by a Pakistan Air Force (PAF) during a clash over Kashmir on February 27 as two weeks of growing tensions between the two countries erupted into open hostilities.

With additional input from Reuters