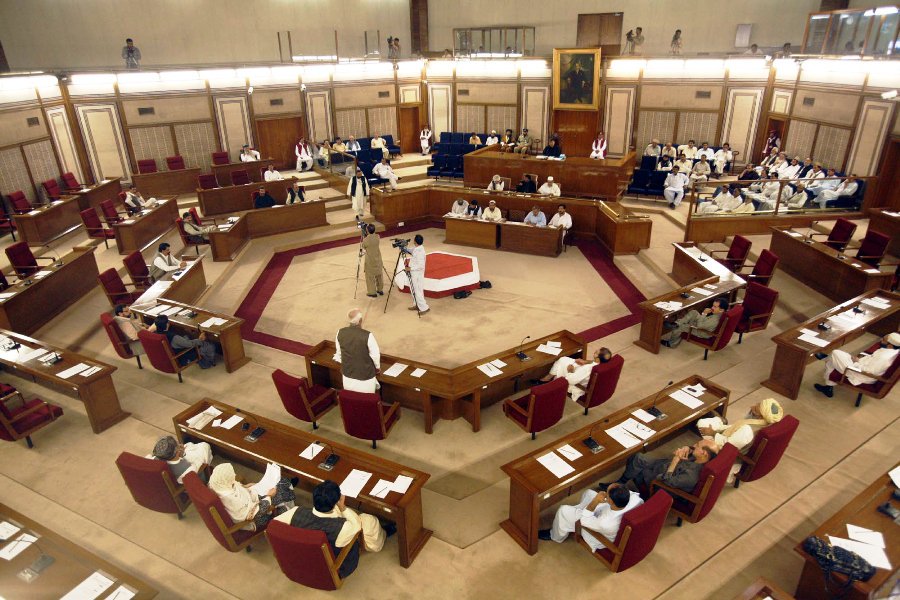 ---
QUETTA: The Balochistan Assembly on Thursday adopted a joint resolution that strongly condemned the Indian air force attack and airspace violation in Muzaffrabad sector and demanded of the federal government to take up the issue at all world fora to ask the international community 'to take notice of this situation and expose the ugly face of India'.

The joint resolution of treasury and opposition parties was moved by Abdul Khaliq Hazara, Adviser to Chief Minister on Sports, on behalf of all the members in the house. Deputy Speaker Sardar Babar Khan Musakhail presided over the special session which was summoned by the governor on Wednesday evening.

Chief Minister Jam Kamal and members from both sides, while condemning Indian aggression, said that the entire house and people of Balochistan are on one page and with the armed forces to give strong reply to the Indian forces. It also criticised Indian Prime Minister Narendra Modi for wanting to impose war on Pakistan just to influence the result of upcoming election in India.

Referring to Indian violations of Pakistan airspace on Tuesday and Wednesday, the resolution stated that such cowardly attacks are an old approach of a clever enemy and when the Pakistan Air Force (PAF) retaliated and took action against the India aggression, the India fighters were compelled to escape.

"We have full trust in the defense capability of our armed forces and we assure them the entire nation is with them for the protection of the motherland," the resolution said, adding that the Indian premier was trying to stir up anti-Pakistan frenzy by using the Pulwama incident of February 14 as part of his nefarious design to win the general election.

It said the Pakistan army and government had strongly denied the allegation of the Indian government and termed the Pulwama incident a conspiracy of India.

Chief Minister Jam Kamal, while speaking on the resolution, said that the Modi government always gained support in the election through launching a hate campaign, and the current campaign was also part of its strategy to influence elections.

He added that India was envious of the steep pace of development in Pakistan and the positive role played by Islamabad in the region, and was, therefore, hatching conspiracies.

Kamal said that through its integrated reply to Indian aggression, Pakistan has proved it is a responsible state and knows how to defend the country. In a warning shot, he said that India should not consider Pakistan's desire for peace as weakness as the people of Balochistan were ready to defend every inch of the motherland.

"The entire nation is united and ready to fight for the protection of their country along with armed forces who always showed their capability and defended the country," Kamal said and added that India tried to create misunderstanding between Pakistan and its friends, including Iran, Afghanistan, Saudi Arabia, UAE and United Kingdom but failed.

He said that India also spread propaganda against the China-Pakistan Economic Corridor (CPEC) project and termed it a security threat for the region. He said that after the deteriorating situation in Indian Occupied Kashmir (IOK), India tried to sabotage Pakistan through use of force. "But Indian leadership must know that it will always find Pakistan, its forces and people ready for the protection of their country."

Former chief minister Mir Jan Muhammad Khan Jamali said that India has a habit of making baseless accusations against Pakistan whenever it is faced by internal failure. "The Indian leadership has not accepted Pakistan and is still hatching conspiracies against it even though Pakistan does not want war and has always offered dialogue to India for peace and resolving all issues."

Jamali, a retired army officer, also warned that if hostilities began, it would prove very dangerous as both Pakistan and India are nuclear powers.

Opposition leader Malik Sikander Khan Advocate said that India should behave and warned it of dire consequences if it violated Pakistan's airspace. He said the entire nation was standing with the armed forces.

Other members who spoke on the resolution included Noor Mohammad Dummor, Abdul Khaliq Hazara, Syed Ehsan Shah, Demish Kumar, Asghar Khan Tareen, Malik Naeem Bazai, Mobeen Ahmed Khilji, Titus Johnson and Abdul Wahid Siddiqui.



LEAs, provincial departments to be on alert

Following escalation of tension between Indian and Pakistan, Chief Minister Jam Kamal Khan on Wednesday directed Law Enforcement Agencies (LEAs) and provincial departments to be on alert for any emergency-like situation.

Balochistan's Provincial Disaster Management Authority (PDMA) has also been issued the instructions due to the current national security situation.