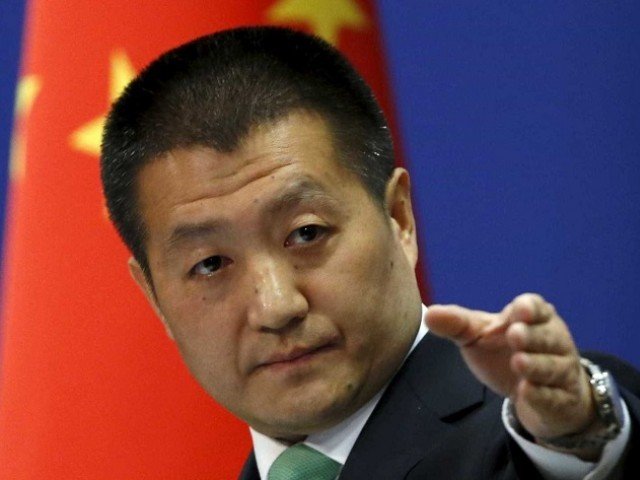 ---
BEIJING: China urged India and Pakistan on Tuesday to "exercise restraint" after New Delhi said its warplanes attacked a militant camp, in a move that sent tensions soaring between the arch-rivals over disputed Kashmir.

"We hope that both India and Pakistan can exercise restraint and adopt actions that will help stabilise the situation in the region and improve mutual relations," China's foreign ministry spokesperson Lu Kang said.

Chinese Foreign Minister Wang Yi is expected to meet his Indian counterpart Sushma Swaraj and Russia's Sergei Lavrov in the Chinese city of Wuzhen on Wednesday for a previously planned meeting.

Wang called Foreign Minister Shah Mahmood Qureshi on Monday to discuss the recent suicide attack, saying China supports Pakistan and India in efforts to resolve the issue through dialogue, state news agency Xinhua reported.

China, one of Pakistan's closest allies, has poured billions of dollars into the South Asian country as part of the China-Pakistan Economic Corridor (CPEC), a massive infrastructure project that seeks to connect its western province of Xinjiang with the Arabian Sea port of Gwadar in Balochistan.

The Indian Air Force (IAF) violated Pakistani airspace on Tuesday near the Line of Control (LoC) and were chased away by Pakistan Air Force (PAF) jets which were immediately scrambled to thwart any aggressive move by the country's eastern neighbor, said the Inter-Services Public Relations (ISPR).

"Indian Air Force violated Line of Control. Pakistan Air Force immediately scrambled. Indian aircraft went back," said a tweet by the ISPR.

The military's media wing added that the LoC was violated near Muzaffarabad sector. "Facing timely and effective response from Pakistan Air Force released payload in haste while escaping which fell near Balakot," said DG ISPR Major General Asif Ghafoor.

The military added that no casualties or damage was reported in the area.



PAF chases away Indian jets after LoC airspace violation

Amid relentless saber-rattling from New Delhi, the military reiterated that Pakistan's armed forces are fully prepared for a befitting response to any Indian aggression or misadventure.

Pakistan reserves right to 'befitting response' after LoC violation: FM Qureshi

War frenzy has been sweeping across India even since a young man from Indian occupied Kashmir rammed a vehicle full of explosives into a military convoy in Pulwama, killing nearly four dozen soldiers on February 14.

Jaish-e-Muhammad militant group, which Delhi claims operates from Pakistan, purportedly claimed credit for the deadliest attack on Indian troops in IoK. Delhi put the blame squarely on the state of Pakistan, deployed its troops menacingly close to the border, and started issuing threats.

Though the Pulwama attack seemed to strike a nerve in India, with growing calls for 'revenge', defence analysts say India has few good military options.

Islamabad has offered India every possible help to investigate the attack and even held out an assurance that action would be taken if Delhi shared credible evidence of involvement of any group using Pakistan's soil for attacks in mainland India.
COMMENTS (1)
Comments are moderated and generally will be posted if they are on-topic and not abusive.
For more information, please see our Comments FAQ