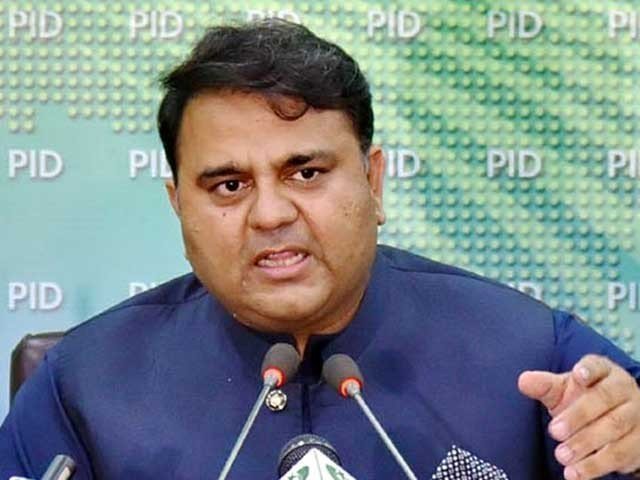 ---


Information Minister Fawad Chaudhry has said that Kashmir was never a part of India and never will be because the hearts of Kashmiris are not with them.

While addressing a conference on Kashmir in the federal capital on Monday, the information minister said, "Kashmir was never a part of India and will never be. The people cannot be suppressed by force. Peace cannot be established while deploying ten Indian personnel on a single Kashmiri".

"Under no circumstances is it allowed for any government to open fire on peaceful demonstrators," the federal minister said, adding that, New Delhi will never succeed in muzzling the organic freedom movement in Kashmir.

Chaudhry stressed that "The treatment meted out to Kashmiris only adds fuel to the fire… genocide in the valley must come to an end".

He noted that the entire Pakistani nation stood behind its armed forces and all the political parties were on the same page when it came to the defence of the motherland.

The minister maintained that Pakistan wanted to normalise relations with India and had reached out several times with various initiatives but the neighbouring country did not respond in the same manner.

"Pakistan wants peace and we invite India for dialogue to resolve all outstanding issues between us," he said. "A little introspection on India's part would make it clear that they've committed more mistakes than us," he added.

Chaudhry reaffirmed Islamabad's stance that the people of occupied Kashmir must be given the right to self-determination.

"Islamabad wants peace with New Delhi," the minister said, adding that Indian people did not want war with Pakistan.

He said Prime Minister Imran Khan had told India if it takes one step forward, Islamabad would take two.

Last year, the United Nation's office of the High Commission for Human Rights (OHCHR) issued its first-ever report on the situation in Kashmir.

The report highlighted the protests that took place in the wake of Burhan Wani's martyrdom in 2016 and the inhumane use of pellet guns by the Indian forces against the demonstrators in the occupied valley.

Armed forces fully prepared to respond to Indian aggression: ISPR

At least 40 Indian soldiers were killed in occupied Kashmir's Pulwama district on February 14 when a suicide bomber hit an explosive-laden car into their convoy.

According to media reports, Jaish-e-Muhammad claimed responsibility for the attack but New Delhi immediately blamed Islamabad and threatened a retaliatory attack.

It also announced that it would launch a diplomatic offensive to isolate Pakistan in the international community.

Furthermore, India scrapped the Most Favoured Nation status granted to Pakistan and imposed a 200 per cent customs duty on its goods.