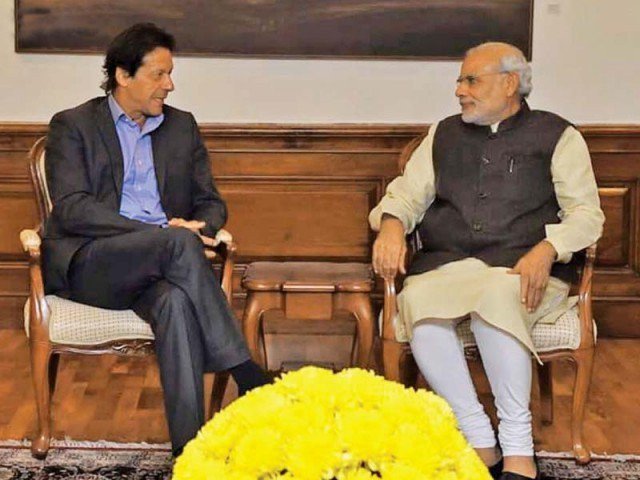 ---
ISLAMABAD: Pakistan is using back channels through its 'friends and some influential countries' to ease tensions with India, as the specter of a possible conflict between the two nuclear-armed neighbours looms large.

Saudi Crown Prince Mohammed bin Salman, who was in Islamabad recently, reached New Delhi on Tuesday and is carrying a 'special message' from Prime Minister Imran Khan for Indian Prime Minister Narendra Modi, official sources familiar with the development told The Express Tribune.

According to the sources, the Saudi crown prince would convey Modi on behalf of Prime Minister Imran that Pakistan was ready to extend all possible assistance in the investigations into the Pulwama attack.

Prince Salman, who also favours dialogue between Pakistan and India to defuse the worsening situation, believes that any conflict between the two neighbours would be detrimental for regional peace.

PM Imran offers India probe into Kashmir suicide attack

"And he would convey the same to the Indian leadership," said a diplomatic source.

The government of Prime Minister Imran Khan is also keen to open 'backdoor diplomacy' with India in order to discuss the Pulwama attack and how the two countries can cooperate with each other.

Officials here said Pakistan did not want any escalation in tensions and was ready to hold talks with India even on the issue of terrorism.

The same message was relayed by Prime Minister Imran Khan on Tuesday in his first reaction to the Pulwama attack.

Although the international media mostly highlighted Imran's statement on retaliating to India's possible action against Pakistan, the actual message he wanted to convey was that of 'reconciliation and not confrontation,' said a senior official, who requested anonymity.

The underline message, according to the official, from the prime minister was that India can trust his government.

India; however, rejected the prime minister's 'olive branch' and accused Pakistan of being the 'nerve center of terrorism.'

Observers believe that given the Indian government's aggressive posturing, it seems unlikely even the Saudi crown prince can calm the situation.

Pulwama attack: India demands Pakistan take 'credible' action

With the situation heading towards a possible standoff, it is believed that certain countries are also now quietly engaged both with Islamabad and New Delhi to prevent any escalation in tensions.

The United States and some other western countries have been in touch with both governments for this purpose, according to sources.

The US is particularly concerned that any escalation in tensions could undermine the ongoing efforts to find a political solution to the 17-year long war in Afghanistan.

Pakistan's Ambassador to Afghanistan feared the same when in an interview he warned that ongoing standoff between Pakistan and India would not auger well for the Afghan peace process.