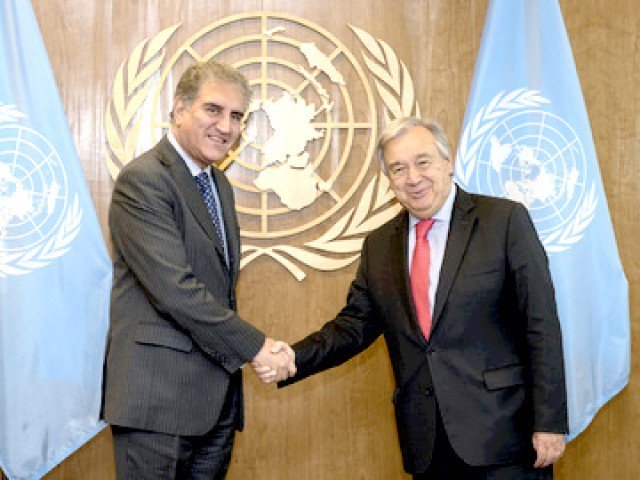 ---
ISLAMABAD: Foreign Minister Shah Mehmood Qureshi on Tuesday called on the United Nations (UN) to 'step in to defuse tensions' between Pakistan and India following the attack in occupied Kashmir's Pulwama district.

A suicide car bomb rammed into a convoy of Indian security personnel in the volatile region of the occupied valley and killed at least 44. Immediately after the attack, sections of the Indian government and media blamed Pakistan – an allegation strongly refuted by Islamabad.

"It is imperative to take steps for de-escalation," said the foreign minister in a letter to the UN Secretary General António Guterres.

Qureshi added in his letter to the UN chief that "it is with a sense of urgency that I draw your attention to the deteriorating security situation in our region resulting from the threat of use of force against Pakistan by India".

Modi's dream of isolating Pakistan will never be fulfilled: FM Qureshi

The foreign minister said the Pulwama attack on Indian Central Reserve Police Force was ostensibly and even by Indian accounts carried out by a Kashmiri resident of Indian-occupied Kashmir. Attributing it to Pakistan even before investigations is absurd, Qureshi reiterated.

"For domestic political reasons, India has deliberately ratcheted up its hostile rhetoric against Pakistan," FM Qureshi said, adding that it has created a tense environment in the region.

Stop levelling baseless accusations, FM Qureshi tells India after Pulwama attack

"It [India] has also hinted that it may abandon the Indus Waters Treaty. This would be a grievous error,' the foreign minister stated.

Qureshi maintained that India must be asked to conduct an open and credible investigation on Pulwama incident.

The foreign minister further requested the UN chief to ask the Indians to refrain from further escalation of the situation and to, "enter into dialogue with Pakistan and the Kashmiris to calm the situation down".

"I request that this letter be circulated to members of the Security Council and General Assembly," FM Qureshi said.

'RIGHT TO RETALIATE' 

Meanwhile, speaking to the media in Multan, the foreign minister warned the India that Pakistan reserves the right to retaliate in a befitting manner in case of any misadventure.

He urged the Modi administration not to sabotage the peace in the region for the sake of its internal politics, adding, "It is easy to wage war but it is difficult to wrap it up."

Pakistan would cooperate if India offers "actionable evidence" about the Pulwama incident, pledged the foreign minister.

He also noted that New Delhi is conspiring to isolate Pakistan diplomatically, but it would not succeed in its designs.

He reiterated that Pakistan had rendered over 70,000 sacrifices in the war against terror and would not allow anyone to use its soil for terrorism.