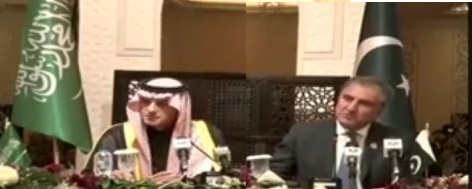 ---
Saudi Foreign Minister Adel bin Ahmed Al-Jubeir, in a news briefing on Monday, clarified that the money given to Pakistan was 'not charity but investment'.

While addressing a joint presser with his counterpart Foreign Minister Shah Mehmood Qureshi, he reiterated Saudi Arabia's resolve to strengthen ties on every front including security, trade and the economy.

Saudi prince receives spectacular welcome

The Saudi Arabian foreign minister also alleged that Iran had been harbouring terrorists and the kingdom has been a victim of it.

"Iran should be the last country to accuse others of terrorism," Jubeir said in defence of Pakistan after Tehran accused Islamabad of supporting the perpetrators of a suicide bombing that killed 27 Revolutionary Guardsmen.

Jubeir added that an oil refinery will be set up at a cost of $10 billion in Gwadar.

"We want to see Pakistan as an economically stable country," he added.

Replying to a question, he said terrorism is a common enemy and Pakistan, Saudi Arabia and the USA are working jointly to eradicate this menace.

He further added that the kingdom was working with Pakistan in order to reach reconciliation between the Taliban and the Afghan government to move forward. "Saudi Arabia wants a peaceful solution of Afghan crisis," he added.

On Pak-India relations, he said we want both countries to resolve their conflicts and have peaceful relations.

Both nations face similar challenges and terrorism is among the scourge of problems the two countries intend to get rid of, the foreign ministers pledged.

Saudi crown prince sees Pakistan as 'very important country in future'

Addressing the conference, FM Qureshi said that the two countries want to institutionalise bilateral ties.

Foreign Minister Shah Mehmood Qureshi said Saudi Arabia will invest 20 billion dollars in various sectors of Pakistan.

He further said seven MoUs have been signed with Saudi side and more will be signed soon.

Qureshi said the working groups and other high-level bodies for Saudi investment have been made time bound to meet regularly to follow the updates.

The senior leadership of both countries will meet at least once a year to review the progress on these matters.

President Alvi confers Nishan-e-Pakistan on Saudi Crown Prince Mohammad bin Salman

To a question, Qureshi said Pakistan respects the sovereignty and territorial integrity of Iran.

During the high-profile summit, Saudi Arabia vowed to "de-escalate" rising tensions between Pakistan and India. "Our objective is to try to de-escalate tensions between the two countries, neighbouring countries, and to see if there is a path forward to resolving those differences peacefully," said Saudi Foreign Jubeir.

The pledge came as the crown prince prepared to head for India later Monday, at the conclusion of his two-day visit to Islamabad.