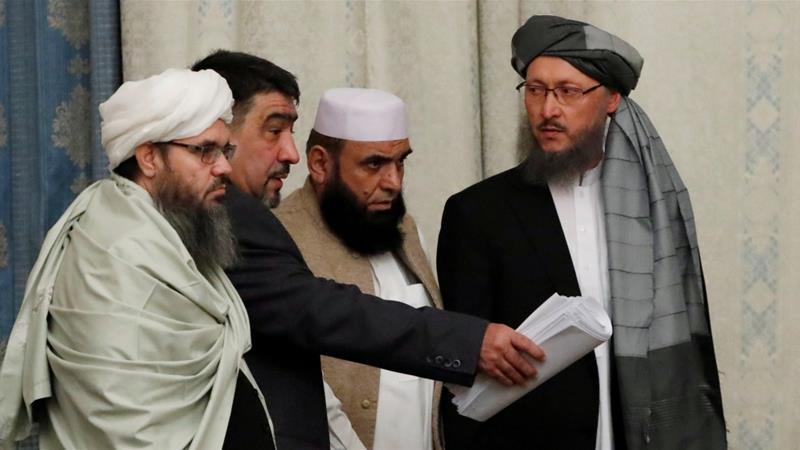 ---
ISLAMABAD: The talks between the United States and Afghan Taliban slated for today (Monday) in Islamabad were cancelled after most members of the insurgent group's negotiating team were unable to travel due to "US and UN travel restrictions".

Both Islamabad and Washington officially never confirmed the talks after Taliban last week announced that their team would be visiting Pakistan on February 18.

The Taliban also said their team would meet Prime Minister Imran Khan during the visit to Islamabad.

The Taliban confirmed the postponement of the Islamabad talks but blamed travel restriction imposed by the US and the United Nations on some of their negotiating team's members as the main reason.

"The Islamic Emirate (Taliban) had arranged for their representatives to participate but unfortunately, most members of the negotiations team were unable to travel due to the US and UN blacklist and the meeting was postponed," claimed a Taliban spokesperson.

"It should be reminded that the delay was not related to the Islamic Emirate because the Islamic Emirate had held complete preparations for the meeting. All media reports in this regard such as cancellation by the Islamic Emirate or due to other reasons are untrue," he added.

But some sources said the cancellation of talks was linked to the concerns expressed by the Afghan government.

Former Afghan president Hamid Karazai publically opposed the idea of Pakistan hosting the next round of talks between US and Taliban.

When contacted, a senior official here said Pakistan had never at first place confirmed such talks, therefore there was "no point in commenting" on the subject.

Taliban's reason for cancellation of talks is not seen as genuine given the fact that their negotiating team has recently travelled to Russia, the United Arab Emirates and Qatar.

But some observers are of the view that since the Taliban have recently announced a new 14-member team for talks with the US, there is a possibility that some of them were unable to travel.

The new team announced by Mullah Abdul Ghani Baradar includes the younger brother of Mullah Umar as well as members from Haqqani network.

Anas Haqqani, the younger brother of Sirajuddin Haqqani, is part of the Taliban negotiating team. However, he was in US custody and Taliban have been demanding his release.

With postponement of talks in Islamabad, Taliban and US officials are now expected to meet in Doha on February 25.

Last month, the two sides held marathon talks in Doha. Discussions primarily focused on US troops' withdrawal and assurances that Afghan soil would never be used again by any terrorist organisation.

Both Taliban and the US cited progress in their talks. But the major sticking point regarding the inclusion of Afghan government in the talks is yet to be sorted out.

Taliban have so far refused to talk to the Ghani administration, calling it "puppets," although they met Afghan opposition leaders in Moscow recently.

Published in The Express Tribune, February 18th, 2019.