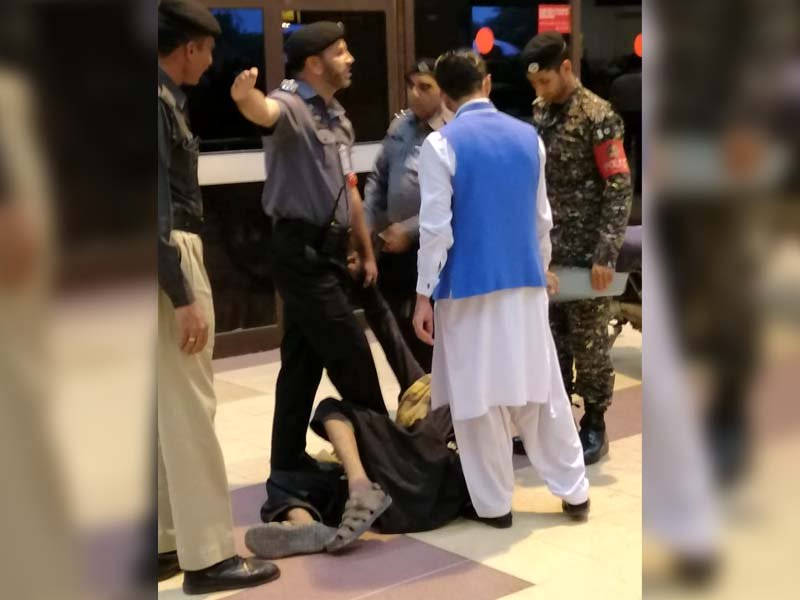 ---
KARACHI: A motorcyclist was overpowered by the security personnel after he managed to break into Karachi airport's international departure entrance on Saturday.

Footage of the incident went viral on social media, in which a man can be seen wrestled to the floor and then being taken into custody by Airport Security Force (ASF) personnel at the Jinnah International Airport.

During initial investigation it was found that, the culprit, Adil Rehman, was a French national after checking his passport.

It is believed that Rehman is mentally challenged and had come to Pakistan back in 2018.

Rehman has also been arrested in France for violent behaviour in the past.


Motorcycle rider tried to break the departure gate at Karachi airport.
Halaat Updates #UpdatingGenerations pic.twitter.com/eSnLfLlTSj

— Just Updates (@Justupdates2) February 16, 2019


Back in 2014, heavily armed militants attacked the same airport killing at least a dozen people and injuring many more as all flights were suspended and the army was called in.

Terror in Karachi: airport under siege

Officials and medics confirmed that 12 people – including seven officials of the ASF – were killed in the assault.

Television images showed plume of smoke and flames billowing from the airport building with sporadic gunfire sound.

In an ensuing operation that continued for five hours the terrorists were killed by the army commandos and personnel of other security forces.

Security at the airport has been beefed up ever since the terrorist attack.