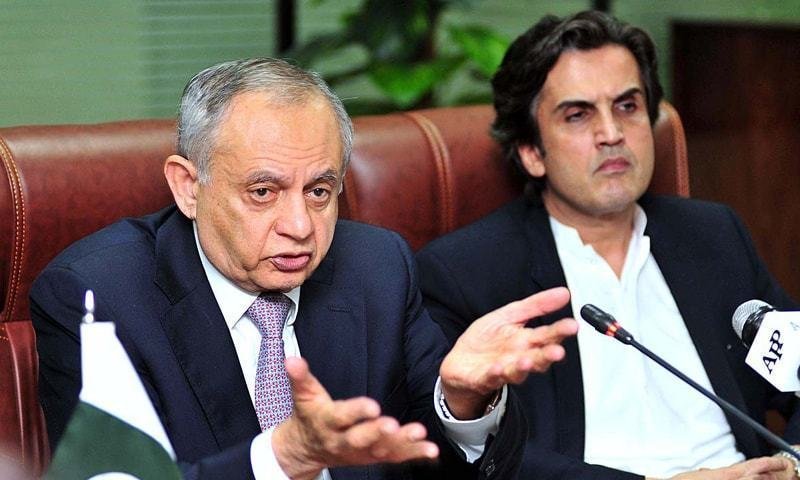 ---
ISLAMABAD: Pakistan has said it would not overreact to India's latest step of withdrawing its most-favoured nation (MFN) status and would take action with great care.

"We would not overreact. We have three options including unilateral, bilateral [action] under the South Asian Free Trade Area (Safta) and multilateral [action] under the World Trade Organisation (WTO). We would take action with great care," said PM's Adviser on Commerce Abdul Razak Dawood.

The PM's adviser was responding to a question during a joint press conference, also addressed by the Board of Investment (BOI) Chairman Haroon Sharif.  When he was asked about trade volumes, Dawood said Pakistan's exports to India is around $300 million per annum while Indian exports to Pakistan is more than a billion dollars. "We want to be a nation interlinked with the world," he added.

He said Pakistan is going to sign with Saudi Arabia four major MoUs for setting up an oil refinery at Gwadar, investment in renewable energy and minerals and finance arrangement through Saudi Fund for Development for financing projects in Pakistan.

Under these MoUs, projects would be executed under government to government arrangement.

He said for the last many years, the world was seeing Pakistan through the lens of security. Now it is seeing the country through the lens of investment and stability. The Saudis are coming to Pakistan for long term investment, he added.

Dawood said in the last five years, the investment under the China Pakistan Economic Corridor (CPEC) in infrastructure including power sector, has resolved the power shortage issue to a large extent. Now, Saudis are coming to add on more investment.

He said Saudi investment is not in competition with China. China has helped a lot and is helping more now in agriculture and industrial sector. After this MoU, the work on feasibility study would be started to set up the refinery and petro chemical complex.

"They are coming on purely commercial basis to get returns on investment. We have to watch out the country's interest. However, we would give them adequate return on their investment, he said.

Razzak said the Saudis are also planning to take part in privatisation bidding of the two RLNG-powered plants including 1,223 megawatts Baloki Power Plant and another 1,230MW power station at Haveli Bahadur Shah. "It is open bid," he said.

The Saudis are also interested in investing in renewable energy. "Pakistan is not a very cheap energy country. We have to reduce electricity cost as to make generation cost competitive. It would make our products competitive in world market. Over the years, cost has come down in solar and wind energy.

Modi warns of 'strong reply' to Kashmir attack as India withdraws Pakistan's MFN status

He said the Saudis are also interested to invest in mineral sector in which they also have a good experience. It would benefit especially Balochistan and Khyber Pakhtunkhwa.

"They would carry out study on the minerals sites in Pakistan and if they found it commercially viable then they would invest in. This investment which is coming to Pakistan is on pure commercial basis. Anybody can come to Pakistan to invest," he added.

He said Saudi-Pak Supreme Coordination Council would be also formed to monitor and look at the progress on bilateral initiatives including in fields of culture, economy, defence and security. "After this trip, we would go for its implementation," he added.

To a question regarding viability of setting up of a refinery and its huge distance from Pakistan's major urban centers, Dawood said, "Yes, we know this is one of the things they would be looking at." He said crude oil will come from Saudi Arabia and refined and sold in Pakistan. It could also be exported.

Pakistan launches diplomatic blitz amid Indian warmongering

To a question whether Pakistan would be extending the same level of benefits to Saudi Arabia that it is extending to Chinese investors, Dawood said with the passage of time, Pakistan would be deciding what benefits it would be extending on investments.

"It must be a win-win situation. We want that investors get good returns and Pakistan also gets benefits. However, this is always decided after the feasibilities are done. it is now too early to say something regarding it," he added.