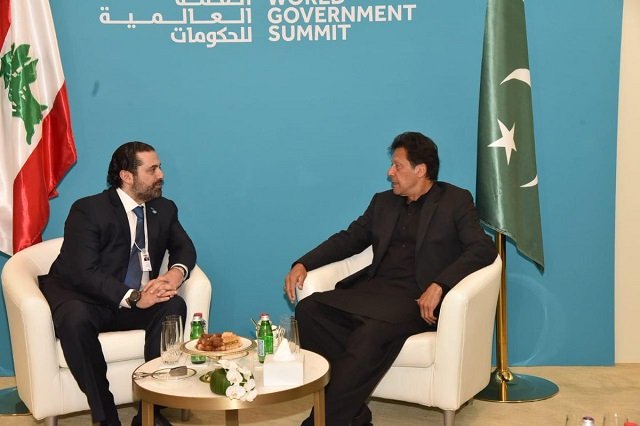 ---
Federal Information Minister Fawad Chaudhry said on Monday that Lebanon's Prime Minister Saad El-Din Rafik Al-Hariri had regretted playing a role in striking a deal between former premier Nawaz Sharif and ex-president Pervez Musharraf.

While writing on his Twitter handle, Fawad said Prime Minister Imran Khan during his meeting with the Lebanon premier discussed the speculations of any National Reconciliation Ordinance (NRO)-like deal with Sharif, on which, Harriri said it was his mistake to request the former military ruler to strike a deal with Sharif.

"The Sharif family did not fulfil it's commitment due to which I faced embarrassment," the minister said while quoting the Lebanon prime minister.


نواز شریف کو پرویز مشرف سے NRO دلوانے والے سعد الحریری کو وزیر اعظم بتا رہے تھے کہ پاکستان میں پھر نواز شریف کو NRO کی بازگشت ہے ،سعدالحریری نے دونوں ہاتھ اٹھا کہ کہا شریف خاندان کو معافی دلوانا بہت بڑی غلطی تھی انھوں نے ایک کمٹمنٹ بھی پوری نہیں کی اور مجھے سخت شرمندگی ہوئ

— Ch Fawad Hussain (@fawadchaudhry) February 11, 2019


Earlier in the day, while addressing a news conference Finance Minister Asad Umar also said that the Lebanese PM had acknowledged that helping the Sharif family for securing deal with Musharraf was his mistake.

PM Imran meets Abu Dhabi crown prince, IMF chief on sidelines of Dubai summit

Dispelling the rumours regarding any NRO like deal, Umar asserted that the government would not make any compromises.

On Sunday, PM Imran met his Lebanese counterpart on the sidelines of World Government Summit during his day-long visit to Dubai.


Prime Minister @ImranKhanPTI meets HE Saad El-Din Rafik Al-Hariri, Prime Minister of Lebanon, on the sidelines of World Government Summit in Dubai.#WorldGovSummit pic.twitter.com/x4ZyfkPeTi

— PTI (@PTIofficial) February 10, 2019
COMMENTS
Comments are moderated and generally will be posted if they are on-topic and not abusive.
For more information, please see our Comments FAQ