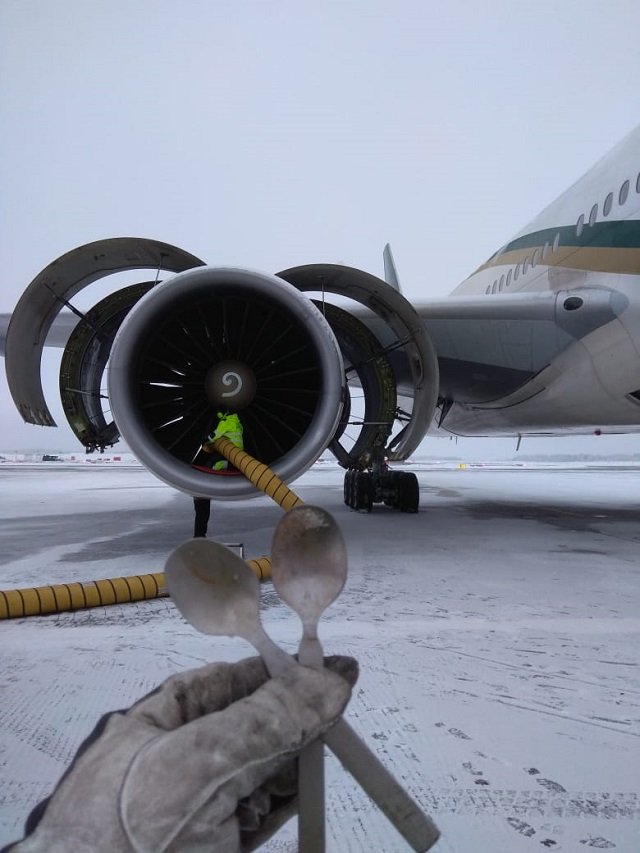 ---
Pakistan International Airlines (PIA) engineers worked for almost four hours in Norway's freezing temperatures to repair an aircraft which was grounded after a technical fault in its engine.

PIA's flight PK 752 had reached Oslo from Lahore on February 6 and was unable to make the return journey due to the technical fault in its engine.




A team of engineers flew to Oslo from Pakistan and after three to four hours of hard work under the extreme weather conditions remained successful in fixing the plane.

After the engineers' heroics, the Pakistani aircraft took off for the return journey via Copenhagen with a delay of 30 hours on February 8.

WATCH: Passenger finds live worm in meal on London-bound PIA flight

More than 200 passengers on board were provided hotel accommodation by the airline.

PIA head Arshad Malik lauded the performance of duty engineers, the manager of Oslo operations and the ground handling staff with special commendations.

The positive news for PIA comes as a relief because the national flag carrier had been making headlines for all the wrong reasons in the recent past.

Earlier on February 4, a PIA flight passenger travelling to London was in for a rude awakening as he noticed that the kheer served to him had a live worm in it.





The passenger shared a video of the incident, which soon began doing the rounds on social media.

Sources said the airline's deputy general manager of flight services summoned the cabin crew of the flight from Lahore to London.

They were grilled and given a dressing down by the PIA administration, the sources said, adding that the cabin crew was asked how the passenger managed to make and upload the video of the 'special serving'.