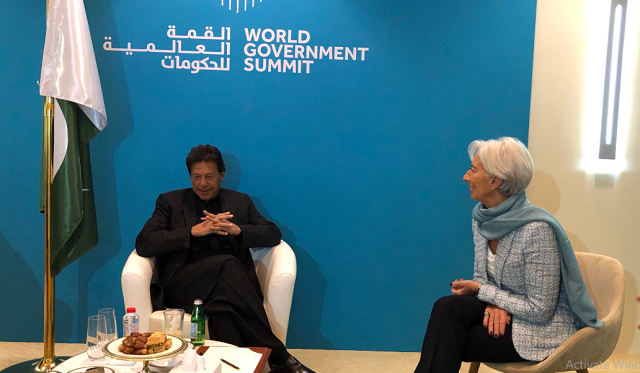 ---
International Monetary Fund (IMF) head Christine Lagarde on Sunday said the organisation was ready to support Pakistan in its efforts to shore up the crippling economy.

She said this in a statement issued after her meeting with Prime Minister Imran Khan on the sidelines of 7th World Government Summit in Dubai.


.@ImranKhanPTI and I met today in Dubai to discuss #Pakistan's economic prospects in the context of a possible IMF-supported program. Protecting the poor and strengthening governance are key priorities to improve people's living standards. https://t.co/DhcPotF0jO pic.twitter.com/13h3VLq8XG

— Christine Lagarde (@Lagarde) February 10, 2019


"I had a good and constructive meeting with Pakistan's prime minister, during which we discussed recent economic developments and prospects for Pakistan in the context of ongoing discussions toward an IMF-supported program," reads the IMF statement.

PM Imran meets Abu Dhabi crown prince, IMF chief on sidelines of Dubai summit

She also highlighted decisive policies and a strong package of economic reforms would enable Pakistan to restore the resilience of its economy and lay the foundations for stronger and more inclusive growth.

Lagarde also underscored that protecting the poor and strengthening governance are key priorities to improve people's living standards in a sustainable manner.

The prime minister appreciated the IMF's support to Pakistan and shared his vision for nation-building, according to a press statement issued by the Ministry of Finance.

He reiterated the government's commitment for undertaking structural and governance reforms and strengthening social protection in the country.

The two sides agreed to work together on policy priorities and reforms aimed at reducing imbalances and laying the foundations of a job creating growth path in Pakistan. In this regard, deliberations between Pakistani authorities and IMF staff would continue to finalise an agreement on the contours of a programme, it added.


In my meeting today with IMF Managing Director Christine Lagarde there was a convergence of our views on the need to carry out deep structural reforms to put the country on the path of sustainable development in which the most vulnerable segments of society are protected.

— Imran Khan (@ImranKhanPTI) February 10, 2019


The prime minister was accompanied by Foreign Minister Shah Mahmood Qureshi, Finance Minister Asad Umar, Maritime Affairs Minister Syed Ali Haider Zaidi, Adviser to PM on Commerce Abdur Razak Dawood and Special Assistant to PM on Reforms Dr Ishrat Hussain on the occasion.

Earlier on Saturday, Information Minister Fawad Chaudhry had told Reuters that PM Imran and Lagarde will be discussing issues holding up bailout negotiations in Sunday's meeting.

"This will give us a chance to understand the IMF views and we will be able to give our version to (Lagarde)," said Chaudhry.

He added that Pakistan wanted any agreed bailout package, which would be the country's second IMF bailout since 2013, to be the nation's last such economic rescue by the IMF.

Officials had expected talks to conclude in November but they have been delayed as Islamabad harbours concerns that the programme could derail the economy and Khan's plans for his term in office.

Pakistan has in the meantime sought financial assistance from Middle Eastern allies such as Saudi Arabia and the United Arab Emirates, who have loaned it in excess of $10 billion to ease the pressure on its dwindling foreign currency reserves.

IMF sets stricter conditions for bailout package

The IMF talks come amid a worsening macroeconomic outlook, with growth expectations slashed for the current fiscal year to about 4 per cent from 6 per cent previously forecast.

On Saturday, Pakistan also revised its growth figures for the last financial year to 5.2 per cent from a previously reported 5.8 per cent, after a sharp cut in the figure for large-scale manufacturing, the statistics office said. When the original estimate was reported in April by the government of the then prime minister Shahid Khaqan Abbasi it was hailed as the strongest growth in 13 years.

Before the revisions to last year's GDP figures, Pakistan's deficit-to-GDP ratio, estimated at 5.8 per cent in 2017-18, was expected to hit 6.9 per cent this year, according to the IMF data.

Pakistan is seeking its 13th bailout since the late 1980s to deal with a current account deficit that threatens to trigger a balance of payments crisis, but talks have been delayed by difficulties in reconciling IMF reform demands with Islamabad's fears the push is too drastic and could hurt economic growth.


COMMENTS
Comments are moderated and generally will be posted if they are on-topic and not abusive.
For more information, please see our Comments FAQ