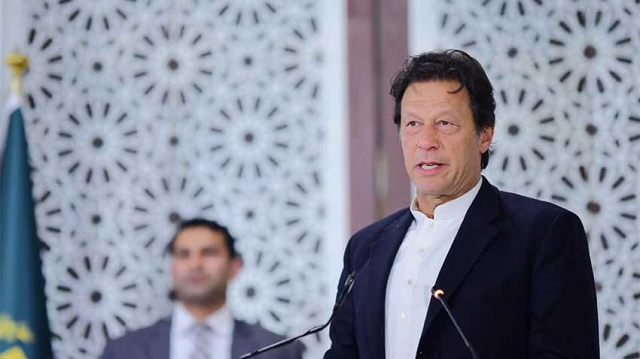 ---
[fbpost link="https://www.facebook.com/etribune/videos/1066214453550202/?notif_id=1548579508473739&notif_t=live_video_explicit"]

Prime Minister Imran Khan on Sunday said that democracy in Pakistan could only flourish if it is based on accountability and merit.

Addressing graduates at Namal College's sixth convocation on Sunday, the prime minister said the reason democracy was never strengthened in Pakistan was because its previous leaders never actually struggled to attain power.

"In a functioning democracy, there is no space for hereditary politics. Sincere leaders only rise to power after a period of struggle. Nawaz Sharif and Shehbaz Sharif faced no such struggles; they were hand-picked for positions of power," the premier said.

PM seeks business community's help to improve economy

Similarly, Pakistan Peoples Party (PPP) Chairman Bilawal Bhutto Zardari and his father, Asif Ali Zardari, inherited leadership of their party, he said.

"Democracy replaced monarchy as the preferred governance system because it is based on meritocracy and accountability," PM Imran said.

Citing China as an example, he said though the economic giant does not have a traditional democratic system, its governance model is based on merit and accountability.

"China's leader, President Xi Jinping, rose to power after a 30-year struggle. Today, China has a system that does not afford any individual special privileges. Almost 400 ministers have faced accountability in China on charges of corruption," he told the graduating students.

Reiterating his commitment to serve the masses, the prime minister asserted that a nation can only rise if public money is spent on public welfare.

He also spoke on the pressing need to improve the country's economy.

"We are blessed with natural resources which we have failed to ever properly utilise. Today, we are disproportionately reliant on imports and our exports have consistently declined over past decades," he said.

"A major reason for this has been our failure to adapt to modern technology. Our agriculture sector lags behind because our farmers do not know the latest techniques and do not have the latest tools."

The prime minister told the students that whatever they set out to achieve, they can. He urged them to learn from failures by rectifying mistakes. "University education equips you to understand these things," he said.

More than half of Pakistanis happy with PM Imran's performance: poll

The premier urged students not to set making money as their life goal, as it would not lead to fulfilment. He said it is paramount for leaders to prioritise the needs of the people instead of their own.

He cited the example of Madina to illustrate his point. "[In Madina] they had understood that education was more important than money. They used to free prisoners of war once they had taught 10 people to read. They did not give priority to wealth — they gave importance to education."

In his concluding remarks, Premier Imran reposed confidence in Punjab Chief Minister Usman Buzdar and criticised former CM Shehbaz Sharif's recent comments in the National Assembly about his successor.

"He [Shehbaz Sharif] had something to say about Usman Buzdar. My question to him, though, is who are you to say anything after getting everything through your brother?" said Imran.

He also criticised the opposition leader for using such language in the house.


COMMENTS (1)
Comments are moderated and generally will be posted if they are on-topic and not abusive.
For more information, please see our Comments FAQ