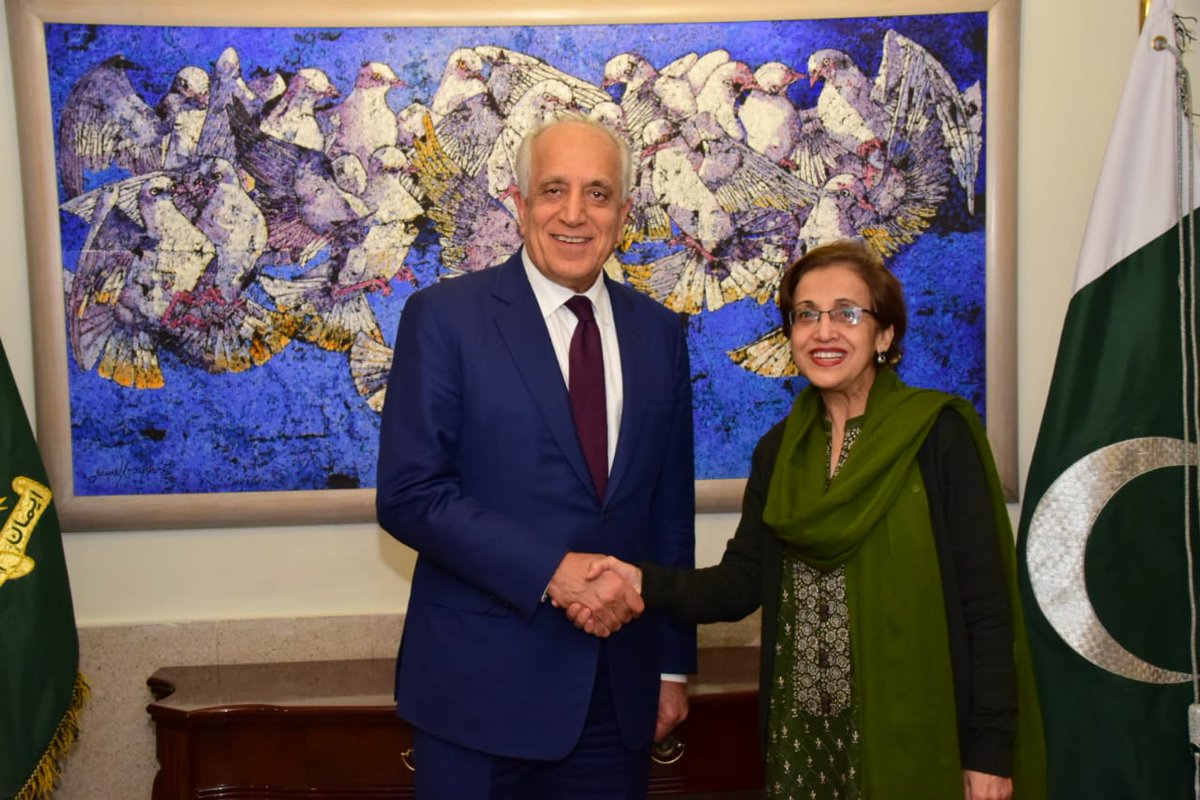 ---
ISLAMABAD: Pakistan and the United States on Thursday agreed to push for the 'intra-Afghan dialogue' to seek a political solution to the lingering war in Afghanistan, even as both sides struggled to convince the insurgents for direct talks with the Kabul administration.

"Both sides agreed that ultimately the intra-Afghan dialogue would be vital to agree upon the contours of a future Afghan polity where Afghanistan becomes a stable and prosperous country and at peace with its neighbours," said a Foreign Office statement after US Special Representative Zalmay Khalilzad held talks with Foreign Secretary Tehmina Janjua and separately with army chief General Qamar Javed Bajwa.

Khalilzad, who was accompanied by an interagency delegation representing departments of defence, state and the National Security Council, is visiting Islamabad as part of his tour to the regional countries for the Afghan peace talks.

He has already visited China and Afghanistan. His visit to Islamabad is aimed at reviewing efforts for bringing the Taliban to the negotiating table. Last month, Khalilzad held talks with the Afghan Taliban representatives in Abu Dhabi also involving Pakistan, Saudi Arabia and United Arab Emirates (UAE).

The second round was supposed to take place in Jeddah but Taliban pulled out of the talks over disagreement on the inclusion of Afghan government in the peace process. The Taliban have so far refused to talk to the Afghan government directly, insisting they would only speak to the US.

But Pakistan as well as Saudi Arabia and UAE have been putting pressure on the Taliban to reconsider their decision. Just ahead of the Khalilzad's visit, Pakistani authorities briefly detained Hafiz Mohibullah, a senior Taliban commander, in what was seen as efforts to persuade the insurgents to talk to Kabul.

There were also reports that Pakistan is pushing for a meeting between the Afghan Taliban and the US special envoy in Islamabad. The Foreign Office, however, did not confirm if any such effort was made.

Nevertheless, the official handout said Ambassador Khalilzad lauded Pakistan's efforts in facilitating direct talks between the Taliban and the US in Abu Dhabi last month. Khalilzad briefed the Pakistan side on his recent engagements in the region.

The foreign secretary reiterated Pakistan's commitment to facilitate Afghan reconciliation process to realise the shared goal of peace and stability in the region. It was noted that taking the Afghan peace process forward remained a shared responsibility.

This is Khalilzad's fifth trip to the region.
COMMENTS (1)
Comments are moderated and generally will be posted if they are on-topic and not abusive.
For more information, please see our Comments FAQ