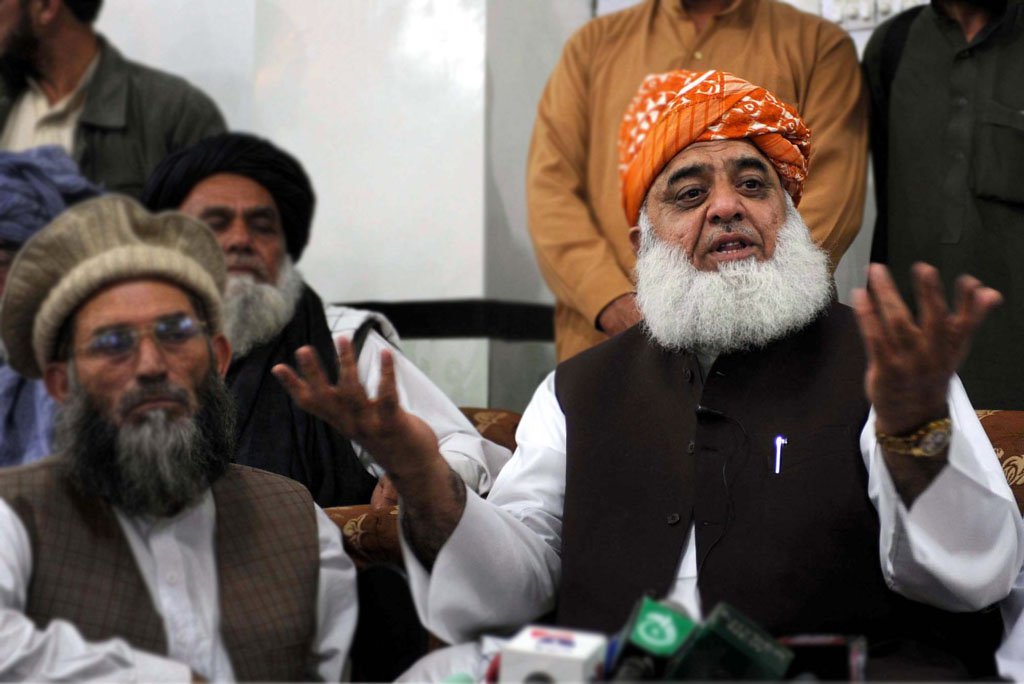 ---
PESHAWAR: The Jamiat Ulema-e-Islam-Fazl (JUI-F) chief Maulana Fazl Rehman has said he will succeed in uniting both the main opposition parties – the Pakistan  Muslim League-Nawaz (PML-N) and the Pakistan Peoples Party (PPP) – against the Pakistan Tehreek-e-Insaf's (PTI) federal government.

"Right now when one of these parties agrees to a coalition the other one quits. However, I will succeed in forging an alliance between them," Fazl said while speaking to media on Saturday after the JUI-F central executive committee meeting.

The JUI-F chief, however, clarified that he did not discuss forming an anti-government coalition during his last meeting with the PPP supremo Asif Ali Zardari. Fazl claimed that the PTI government is planning to recognise the State of Israel while also declaring Ahmadis as Muslims in violation of the Constitution.

Fazl calls on Dagai Babaji

"The government also is planning to ban Islamic seminaries and is creating hurdle in their registration. However, if the government increased these hurdle then we would establish madrassas without formal registration," he said.

He said when seminaries are abiding by the law then the government should also facilitate them instead of creating hurdles. "We will never compromise on the madrassa issue. Negotiation with the government on the issue is suspended."

Fazl said Pakistan is allowing Sikh pilgrims to come to Pakistan without a visa while the Afghan government is also allowing tribal people to enter Afghanistan without papers.

NA session: With joint strategy, Opposition set to give govt a hard time

Talking with reference to the JUI-F meeting, he said the party discussed the prevailing political and economic situation and effects of the price hike on the common man.

"We also discussed the election for the Khyber-Pakhtunkhwa (K-P) Assembly seats in former tribal areas and have allowed the tribal leadership to decide whether or not they want to participate in these polls."

He said the meeting also expressed concern over by inflation, devaluation of rupee and increasing electricity and gas load shedding.  "The government has increased prices of medicines instead of fulfilling its promise of providing free health facilities to everyone," he added.
COMMENTS
Comments are moderated and generally will be posted if they are on-topic and not abusive.
For more information, please see our Comments FAQ