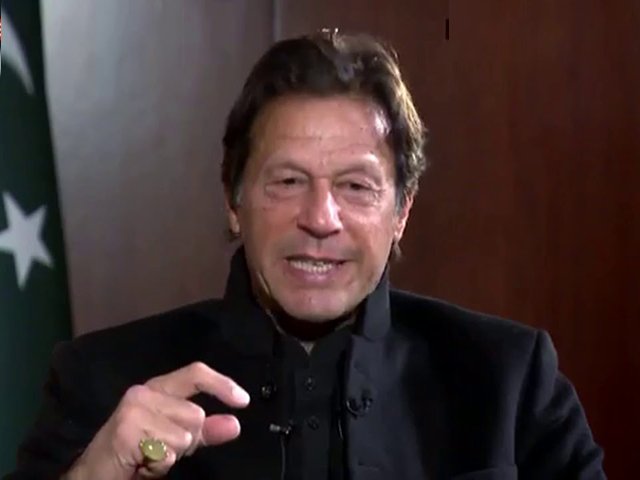 ---
KARACHI: Prime Minister Imran Khan has said that he doesn't know much about the conditions of Uighur Muslims in China's far western Xinjiang province amid reports in the western media about alleged persecution of the religious minority.

Premier Imran was speaking in an interview with Turkey's state broadcaster TRT World where he was asked, "You're doing business with China does it mean you cannot criticise them when it comes to what they are doing with Uighurs."


Prime Minister of Pakistan @ImranKhanPTI Exclusive Interview on TRT World The Newsmakers with Imran Garda (07.01.19)#PMIKonTRTWorld #PrimeMinisterImranKhan
6/11 pic.twitter.com/LfHsX0w283

— PTI (@PTIofficial) January 8, 2019


According to a Washington Post report, up to 1.1 million people, or 11.5 per cent of the Uighur population between the ages of 20 and 79, are believed to be held in "concentration camps" where they are allegedly forced to renounce their religion and Uighur language, and memorise and recite Chinese characters and propaganda songs.

China opposes Malaysia's release of 11 Uighur Muslims

Prime Minister Imran said China has cooperated with Pakistan in a number of areas, which he cannot even disclose because China wants Pakistan to keep the details of aid confidential.

Asked about Pakistan's relations with the United States, the premier said Washington is trying to make Pakistan a scapegoat for its failures in Afghanistan. "There is no military solution to the Afghanistan issue, and dialogue is the only way forward to resolve the conflict."

The prime minister lamented that over the period, Pakistan has developed a dependency syndrome for which the country has paid a heavy cost in the shape of suicide attacks, terrorism and huge economic and human losses.

Beijing dismisses 'hearsay' on Muslim internment

He added that there is "no free lunch" and Pakistan has never tried to become an economically self-reliant country instead it always relied on foreign aid.

Prime Minister Imran said the people of Turkey and Muslims of sub-continent have cordial relations due to their historical links. "The Muslims of the subcontinent had helped the Turkish people in their fight for independence. Moreover, the two countries have strong trade relations and he wants to further enhance it."

Speaking about domestic issues, the prime minister said the state institutions had not been independent and instead controlled by the corrupt rulers in the past.

He said that under his government, all state institutions are being freed of political pressure and empowered to take action against anyone regardless of their political affiliation.
COMMENTS (8)
Comments are moderated and generally will be posted if they are on-topic and not abusive.
For more information, please see our Comments FAQ