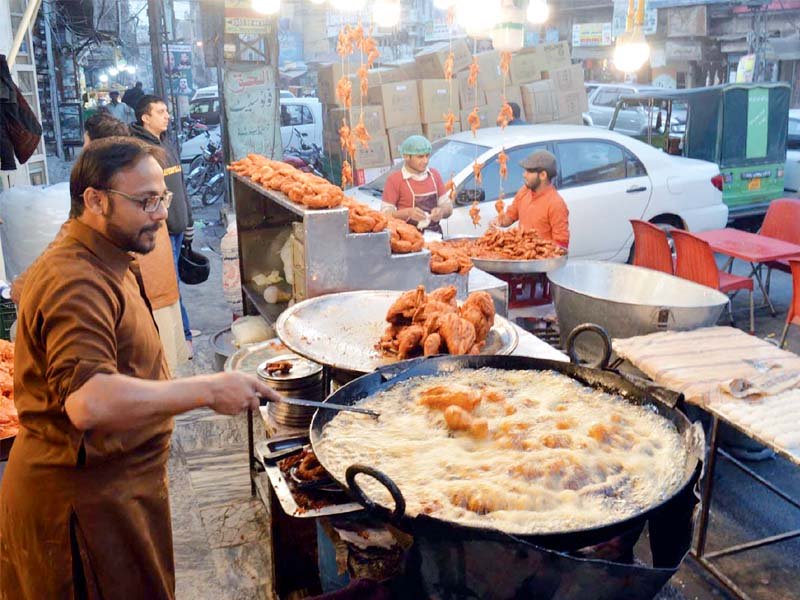 ---
ISLAMABAD: As winter starts, residents of the twin cities of Islamabad and Rawalpindi start flocking to stalls selling fish or those who fry the river catch. However, with lax monitoring of these stores by the authorities, substandard products sold are making consumers sick.

Fish and fried fish stalls have sprung up across Rawalpindi including at Committee Chowk, Bani Market, Kurtapur Bazaar, Kashmiri Bazaar, Commercial Market, Tench Bazaar Lal Kurti, RA Bazar and Sadiqabad Hathi Chowk.

While some of the fishmongers, especially at Committee Chowk are present around the year selling fresh catch, many others are seasonal businesses who set up their makeshift stalls as soon as the temperature starts falling.

A shopkeeper who has a store in the decade-old fish market near the metro station at Committee Chowk explained that as soon as winters start, they witness an influx of buyers from distant areas such as Gujjar Khan, Rawat, Kahuta, Wah Cant and even Taxila to either buy raw fish or to purchase the fried fish.

"I buy around 80 to 100 kilogrammes of fish every week," the shopkeeper said, adding that he stores his fish by covering it in ice so that it is preserved.

He added that his stock comprises a variety of river fish such as the black and white variants of Carp (locally called Rohu), Catfish (Khaga), Mahsheer and eel (Bam). These varieties are sold between Rs200- Rs1,100.

"We save about Rs7,000 to Rs10,000 every day," the shopkeeper said, adding that most people are fond of the Rohu fish.

However, some claim that the fish — whether raw or fried — is substandard while some even sell stale fish by claiming that it is fresh while charging the same rates.

Nadeem Ahmed Bhatti, a resident of Rawalpindi, said that not only is the fish sold in markets substandard but it is also fried in substandard oil which is sold openly in various markets of Rawalpindi.

"We have the institutions [who are supposed to maintain food standards] but there is no check and balance," he complained, claiming that those who are supposed to keep a check on these sellers instead allow these stalls to operate in exchange for free fish.

Health expert Dr Ata Malik said that most of the fish stalls are located adjacent to major thoroughfares such as the stalls set up along Murree Road.




He added that these stalls fry the fish outside where not only the hot oil escapes into the air untreated, but the fish is also exposed to emissions from vehicles.

"When fish or any other foodstuff is fried, the cooking oil used loses its utility and degrades, but the shopkeepers continue reusing the same oil for over a week which poses a health risk for those consuming those fried products," Dr Malik said as he urged the relevant authorities to take notice of the issue.

Consumers Syed Zubair, Malik Aqil, Shaikh Aleem and Col Ejaz Hussain Malik urged the relevant authorities to take action over the use of substandard oil in frying fish.

"Thousands of kilogrammes of fish are sold in the winter season so the health department and the relevant authorities should ensure that they maintain a proper check and balance," they urged.

When contacted, the Punjab Food Authority (PFA) director said that if they receive any complaints about the fish being sold in different parts of Rawalpindi, then they will act on it and take action.

The official clarified that the PFA, the Cantonment Board and the Chaklala Cantonment Corporations were separate entities and that they do not interfere in the operations or affairs of any other department or institution.

Action against spurious drugs

The Islamabad Capital Territory (ICT) administration has prepared a comprehensive plan to tackle the mafia selling spurious and substandard medicines across the city and has already raided and sealed nine medical stores.

The district administration, under directives from Health Minister Aamir Mahmood Kayani, launched a special campaign against the illegal medical practices, raiding and sealing pharmacies including Amin Pharmacy, Danyal Medical Store, Bismillah Medical Store, Gomal Medical Store, Sardar Pharmacy, Naeem Medical, Shahban Pharmacy, Bara Kahu Medical Store and Umer Medical Store.

The stores were sealed for illegal medical practices such as selling expired drugs, selling drugs in the absence of a trained pharmacist, while some were operating with expired licences, some were found involved in the sale of tranquillizers and without prescriptions. Controlled drugs were also recovered from them with no proper record.

Cases under Drugs Act 1976 were also registered against five distributors for illegally supplying drugs to these outlets.

Senior drug inspector Shabir Ahmed said that the authority would continue its campaign against spurious and unregistered drugs. Ahmed added that the drive would ensure quality drugs from licenced manufactures or importers makes it to the market apart from helping address drug shortages. APP

Published in The Express Tribune, January 2nd, 2019.