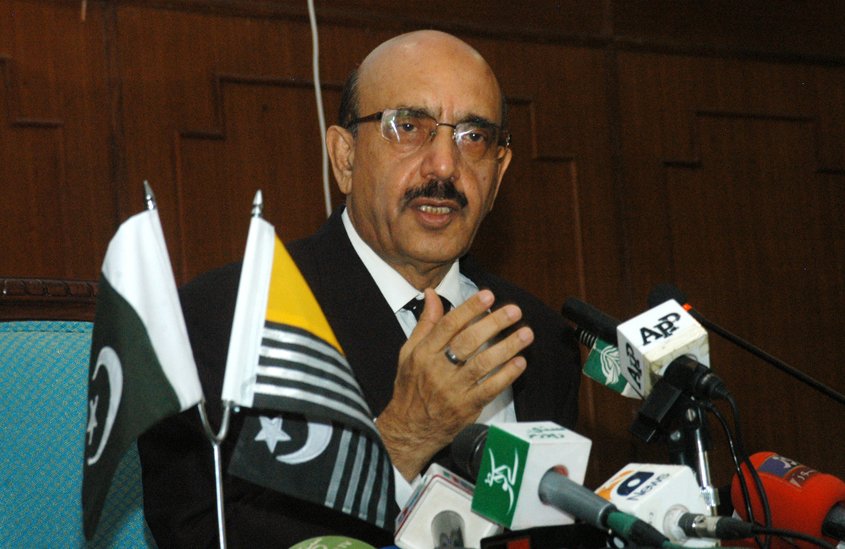 ---
ISLAMABAD: "A slow-moving Holocaust is being played out in Indian Occupied Kashmir," says Azad Jammu and Kashmir (AJK) President Masood Khan who draws parallels between Indian atrocities and Nazi crimes against humanity during World War II.

"It is high time the international community joined hands to put an end to Indian atrocities in IOK," Khan said while speaking in Tribune 24/7 show "Centre Stage".

Kashmiris have not accepted India's illegitimate rule in the disputed Himalayan region. "The youth of AJK is defying the illegitimate writ of India that has been enforced through the use of brutal force," he added.

At least 375 Kashmiris martyred by Indian forces in held Kashmir during 2018

"Kashmiris' message that they are not part of India has not changed since 1947," said President Khan. "The Kashmiri youth want India out of IOK and they can never be silenced through the use of force."

The AJK president said Kashmiris should be given their inalienable right to decide their fate.

Talking about the ongoing upsurge in anti-India protests in IOK, Khan said it was triggered by the martyrdom of Burhan Wani, a 21-year-old Kashmiri who became the symbol of freedom movement in the region.

"The upsurge in anti-India sentiment in the valley has been accelerated by the martyrdom of Burhan Wani, who was brutally gunned down in a fake encounter by Indian occupation forces in July 2016," he added.

President Khan described the use of pellet guns by Indian occupation forces as war crimes. "Nearly 6,000 people have lost their eyesight to pellet guns," he added. Indian occupation forces have raped women and children of Kashmir, he said and cited a recent incident in which an eight-year-old girl was raped and killed by Hindus.

Asifa Bano, 8, had been raped, strangled with her own scarf and bashed in the skull with a rock in January 2018, triggering a new wave of protests in Occupied Valley.

Indian forces martyr two Kashmiri youth in Shopian district

President Khan said that India was trying to portray the freedom struggle in IOK as terrorism and tell the world that it was fighting terrorism "but in reality, Indian occupation forces are the only terrorists in the valley".

The ascendancy of the Narendra Modi-led BJP in India has led to a rise in Hindu extremism which, according to President Khan, would have implications for the whole region, especially for IOK. "The world needs to be cautious about the rise in Hindu extremism," he added.

About upcoming Indian elections, the AJP president said that Indian elections did not matter to the people of Kashmir as they do not associate themselves with the Union of India. "India is living a lie when it claims that AJK is its integral part," he added.

President Khan said the people of AJK are grateful to the government and people of Pakistan for their continuous support to their noble cause of freedom.