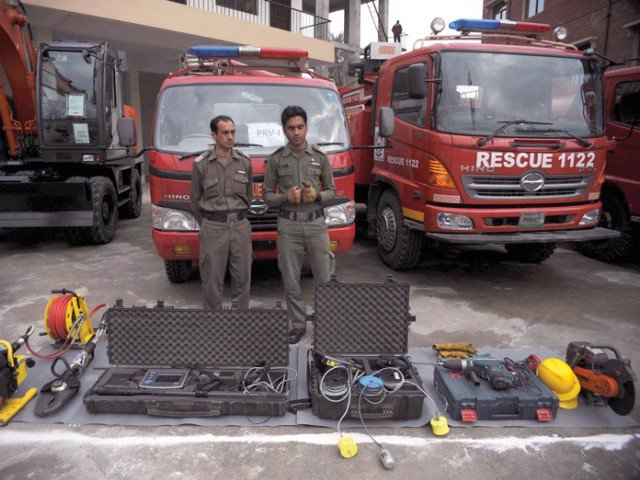 ---
LAHORE: Rescue 1122 tended to around 1.09 million victims during 1.03 million rescue operations in 2018 while maintaining an average response time of seven minutes. The data shows a 30% increase in the number of emergencies as compared to 2017. This was expressed by Rescue 1122 Director General Rizwan Naseer at the annual performance review meeting at Rescue Headquarters on Monday.

The heads of all the wings attended the meeting and presented data from all districts in the province. Operations Head Ayaz Aslam briefed the meeting on 331,671 road traffic accidents which took place in Punjab in 2018 as compared to the 265,510 that were reported in 2017; there was a 25% increase in the number of accidents reported this year.

Similarly, 17,557 fires were reported in the province this year while in 2017, 16,455 cases were reported. There was a 6.7% increase in the number of fires reported. Rescue 1122 also handled 553,088 medical emergencies in 2018 as opposed to 404,545 cases in 2017; these incidents increased by 36.7%. The emergency service also responded to 25,250 calls related to crime in 2018 while 22,195 incidents were dealt with during the previous year.

This number saw a 13.8% increase. Further, a total of 141 explosions were reported across the province in 2018; only 122 were reported in 2017. Rescue 1122 also responded to 1,149 cases of drowning incidents, 35,554 cases of women going into labour, 16,984 cases of falling from a height, 547 building collapses, and 50,918
miscellaneous incidents. "During the last 14 years, Rescue 1122 has emerged as a successful model for delivering emergency services," said the director general.
He said that the motorbike ambulance service (MAS) has also been established in all nine divisions across the province to ensure prompt response, he maintained. MAS has enhance Rescue 1122's operational capacity , he added.

Rescue 1122 has always tried to provide timely and professional emergency services to victims without discriminating on caste, colour or creed, he expressed. He voiced his concerns regarding the 30% increase in the total number of emergencies this year. He said that the service is helping approximately 3,002 victims in the province on a daily basis.

"We can reduce the number of incidents through effectively enforcing safety laws and by promoting healthy and safe living in communities," he said. We are setting a target of one million volunteers in order to reduce the total number of emergencies and to develop healthy, safe and resilient communities, he concluded.
COMMENTS
Comments are moderated and generally will be posted if they are on-topic and not abusive.
For more information, please see our Comments FAQ